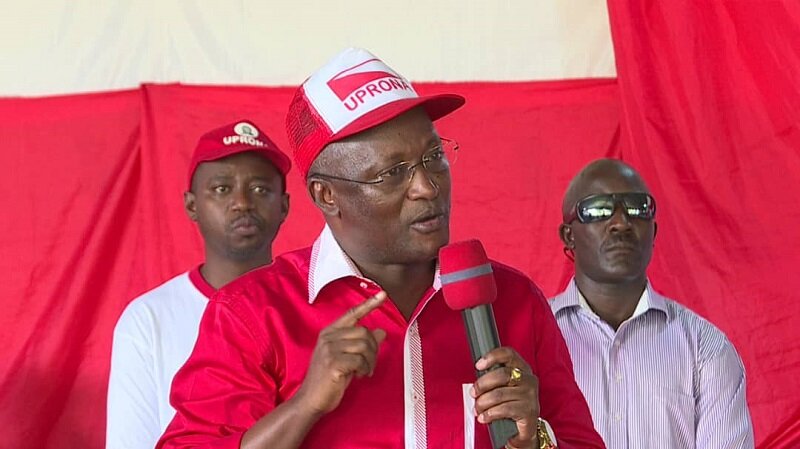 BUJUMBURA January 22nd (ABP) – The 1st Deputy President of the Republic of Burundi, Mr. Gaston Sindimwo, joined on Saturday January 19, 2018, the members of the Unity for National Progress (UPRONA) of the Muha commune, to celebrate the 57th anniversary of that party's victory. Those ceremonies began with a parade from the place commonly known as "Sangwe" Kiosk located in the Kinindo quarter of Bujumbura, to the reception hall of the Kanyosha junior seminary where the very ceremonies took place.
Mr. Sindimwo said in his speech that the UPRONA party is exceptional in that it is a historic party. According to him, we cannot talk about the Independence of Burundi without talking about the UPRONA whose founder Prince Louis Rwagasore is the first pioneer of that party and hero of independence. Following this exceptional quality, he said, UPRONA cannot behave like other political parties. It must therefore adopt such an exceptional behavior that characterizes an "elder" in a family. He also deplored the behavior of some members who block the path of new members to that party, while advising them to adopt a hospitable behavior.
Sindimwo also called for solidarity to win the election in 2020. He also asked them not to give in to the rumors spread by some detractors who are still trying to destabilize the UPRONA. As for those who criticize the party, Mr. Sindimwo said the party is governed by clear laws and by bodies that are competent to analyze such cases and handle them in compliance with the law, he said clearly.
Mr. Abel Gashatsi, current leader of the UPRONA underlined that this party has been since the independence of Burundi, characterized by many shocks, including the assassination of some leaders and conflicts related to leadership. Currently, he said, the UPRONA is governed by stable bodies, thus, disorder no longer has place. Mr. Gashatsi also said that the reunification of that party is now an important step. He deplored the destabilizing behavior of some members who are always trying to create disorder within the party. To that fact, he tranquillized the spirits, stating that such people will not take any step forward.