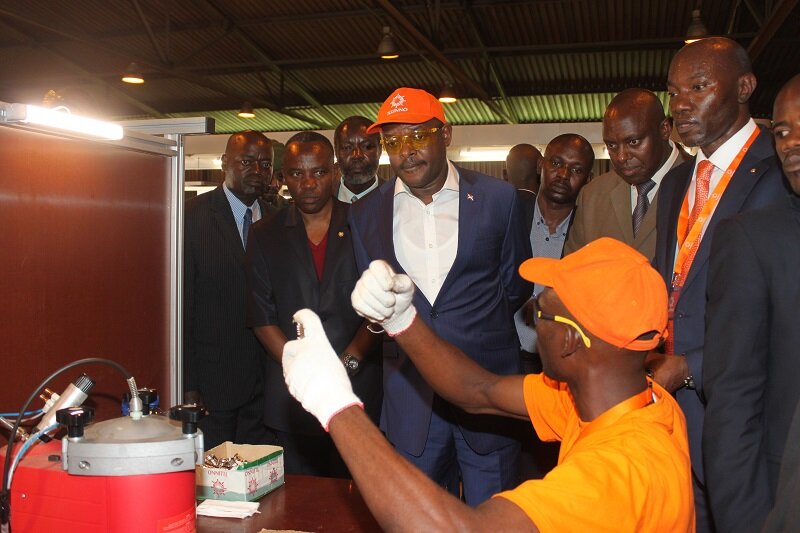 BUJUMBURA April 24th (ABP) – Burundi's Head of State Pierre Nkurunziza, visited the TLLINNO factory in Bujumbura on Monday, specializing in the manufacture of lamps, power cables, poles and other electrical equipment to be aware of its state of implantation. Inaugurated on March 29th, TLLINNO (Tanganyika Lisma Lighting Innovation) is a company in which Russia is the majority shareholder and also counts private entrepreneurs and the State of Burundi, through the REGIDESO (production and distribution of water and electricity regulatory).
According to the programming provided by the company, TLLINNO, which is currently assembling, will manufacture over the period 2018-2026 electrical equipment representing 15% of public lighting production, lamps and economic LED tubes (20%), glass bottles and products (35%) and lighting and solar products (15%). At the level of lighting and solar products (solar panels, projectors, lamps and tubes), it is planned the production of 250 000 pieces for 2018, 750 000 pieces for 2019 and one million in 2020. In the 2018 -2019 period, it is expected the production of lamps of 4 watts (W), 5 W, 6 W and 9 W and economic LED tubes of 12 W. The company also plans to produce concrete poles transporting the electricity for electricity transmission lines and on-site transformer assembly.
According to Mr. Côme Manirakiza, Burundian Minister of Hydraulics, Energy and Mines who accompanied President Nkurunziza in the visit, the establishment of society in Burundi is of great importance for Burundi, as the country is no longer going to export currency to import this electrical equipment, including lamps and tubes. Those currencies will be used for the importation of other products. The concrete poles that will be produced will last longer (more than 50 years) while the wooden poles used today in Burundi are not solid and even cause a lot of power outages.
For glassware that will start operating in 2020, the raw material that is sand is available. The factory, housed in the old buildings of VERRUNDI (Ancient glassware of Burundi) will not use its material and equipment currently outdated. Minister Manirakiza said that TLLINNO will implement its own technology. One of the main challenges raised is the inadequacy of electricity. But the Minister in charge of energy replied that the country is preparing to supply enough electricity to that plant.