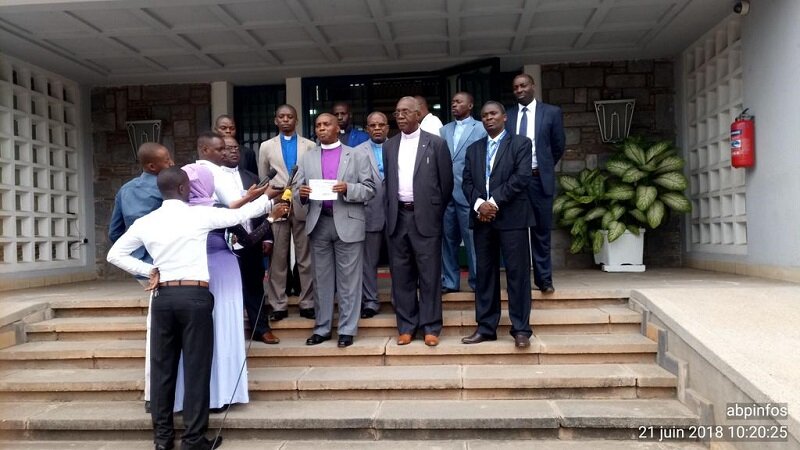 BUJUMBURA June 22nd (ABP) – The Free Methodist Church of Burundi contributed on Thursday June 21, 2018 a sum of twenty million Burundian Francs (20,000,000 BIF) to the elections of 2020. The amount was paid to the Bank of the Republic of Burundi (BRB) by a delegation of pastors of the church, a check by ABP revealed.
In an interview with the press just after the payment, Mr. Déogratias Nshimirimana, legal representative of the church, said that the activity that his church had just completed has three dimensions. According to him, while the church was asking for the agreement to operate on Burundian territory with the Ministry of the Interior, it promised to give support to the various development sectors of the Government of Burundi. Mr. Nshimirimana said that during the daily teachings they give to their followers, they tell them that everyone has two categories of citizenship, namely the citizenship of the country of origin (Burundi) and the divine citizenship (Heaven). In this perspective, he said that one cannot be a citizen of Heaven without being a good citizen on the earth. Everything is complete, he explained. Finally, he added, they came to respond to the appeal by the President of the Republic of Burundi, Mr. Pierre Nkurunziza, having asked that any Burundian worthy of the name and who loves his homeland can contribute to the 2020 elections.
When asked by the press whether this act would not be an interference of a church in purely political matters, the pastor's response was at least categorical: "It depends on what you call politics. The contribution to an action that is done once in 5 years is a small thing compared to the monthly contribution to the development of our country.