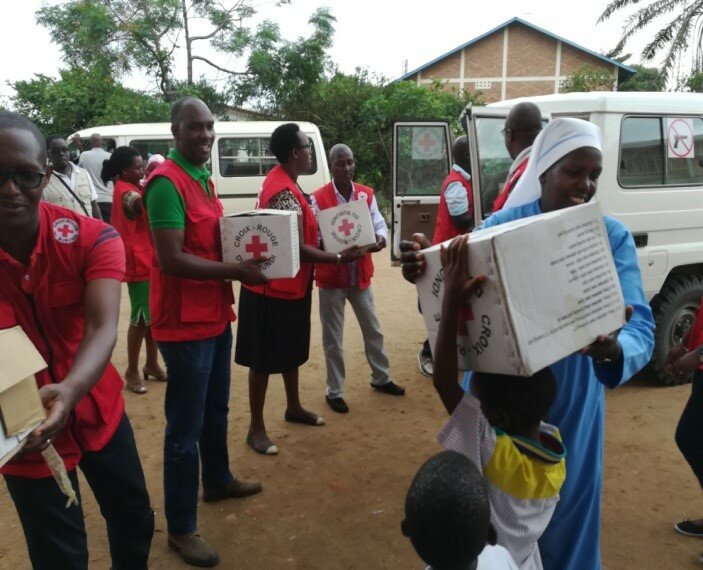 BUJUMBURA December 7th (ABP) – On the occasion of the celebration of International Volunteer Day, the Burundi Red Cross provided material and food aid to the children of the Our-Lady-of-tenderness Orphanage of Bujumbura on Wednesday December 5, 2018. According to the organization's spokesperson, Mr. Alexis Manirakiza, the Red Cross came to encourage that orphanage that raises children from birth to three years old, children who were found on the street while they were still babies.
He said that following that gesture, communities will be sensitive to the different forms of vulnerability that are observed in their respective localities.
Indeed, he explained, the Red Cross wanted to encourage the Sisters in charge of that orphanage who opted to say no to death because they chose to save children who had been abandoned and thrown away by their own parents. Returning to this year's theme, "Volunteers build resilient communities", he said that to say resilience is to say no to disappearance, no to death, and to say yes to adaptation.
Mr. Manirakiza asked all the communities to follow suit of those Sisters in order to be part of the logic of community resilience so that, he felt, the different disasters of all forms can no longer catch people while there was a way to prevent from them. Note that this aid consisted of biscuits, flannels, buckets, cans, soaps, goblets, ropes, loincloths, attachments and kitchen kits consisting of saucepans and dishes.