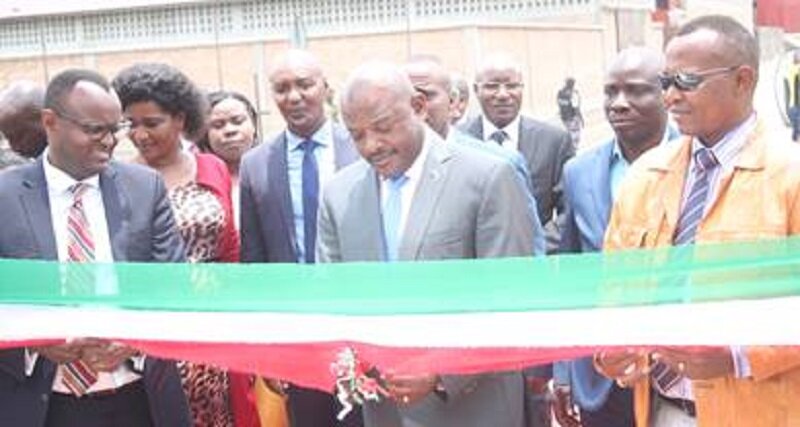 BUJUMBURA October 18th (ABP) – Burundi's President Pierre Nkurunziza inaugurated on Monday October 15, 2018, as part of the 56th anniversary of Burundi's independence, three works built in Bujumbura City.
The latter produces, among other things, cereal flour for babies. That factory is located in quarter 10 and has a capacity of 1.5 tons of flour per hour.It is a school with Cambridge system (English) "Cubahiro International School" and a "Kazoza Finance" agency, built in Kinindo zone, and a "Burundi Fortified Foods" factory built in Ngagara zone of the Bujumbura City.
Opened this school year (2018-2019), the "Cubahiro International School" (CIS) has modern infrastructures and equipment adapted to the age of the students. It now has 86 students, 25 of which are in nursery school, 41 in primary and 20 in secondary school. Next to the classrooms and administrative offices, the school includes a laboratory, a computer room, an art room, a teachers' room, a refectory, a dormitory, game equipment (swings, bikes) and modern sanitary facilities.
The Director of the school, Mr. Florian Mbanga, told the check by ABP that the name "Cubahiro" given to that school reflects the vision of the initiators to educate renowned laureates who embody the dignity, respect and honor. The school provides 21st century training and emphasizes values ​​such as love of work, honesty, dignity and discipline, Mbanga said. He added that the assessment is done in four periods and teachers, from nursery to high school, are graduates, with the exception of one female assistant.Students start classes at 7:30 am and return go back home at 4:30 pm. They take lunch at school and dinner at 4:00 before returning. Food expenses are set at 150,000 BIF per child and per term. The school fees are set at 600 000 BIF for nursery, 750 000 BIF for primary and 900 000 BIF for secondary school.
The purpose of the school is to make it easier for parents who sent their children to study in the Cambridge region to study in the country.
The Kazoza Finance opened its doors in 2012. It now has six agencies, one of which is located in the interior, in Bubanza province.