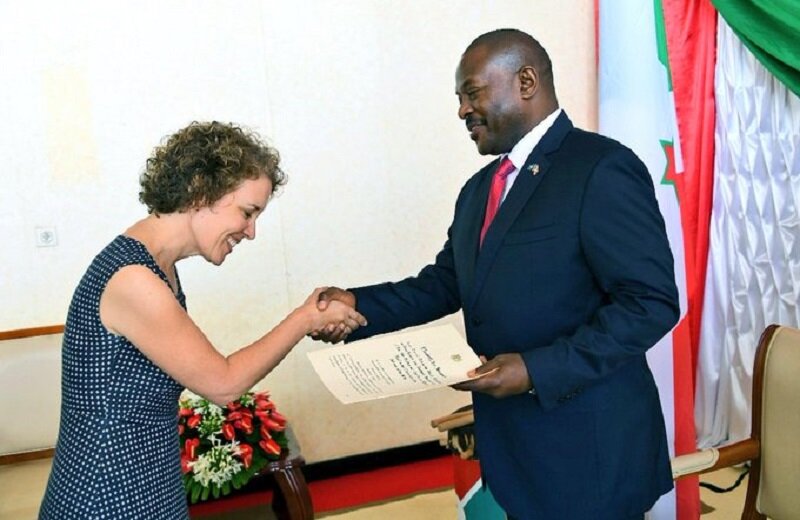 BUJUMBURA February 27th (ABP) – Burundi Head of State Pierre Nkurunziza received in audience on Monday February 26th nine new Ambassadors who came to present their credentials.
They are Mr. Frantisek Dlhopoleck, Ambassador of Slovakia with residence in Nairobi, Kenya, Ms. Joanne Lomas of the Kingdom of Great Britain and Mr. Kim Eung-Joong of the Republic of South Korea, both reside at Kigali in Rwanda.
The Head of State also received Mr. Ratlan Pardede of the Republic of Indonesia with residence in Dar-Es-Salaam, United Republic of Tanzania, Mr. Uriel Norman R. Garibay, Ambassador of the Republic of the Philippines who has his residence in Nairobi, Kenya, and Mr. Antonio Gaspar Inocêncio Pereira with residence in Kinshasa in the Democratic Republic of Congo.
Three other Ambassadors were also received by the Head of State, Ms. Katorina Rangnitt, Ambassador of Sweden, who has residence at Dar-Es-Salaam in the United Republic of Tanzania, Mr. Dragan Zupanjevac of Serbia, based in Nairobi, Kenya, and Raphael Morav, Israël's Ambassador with residence in Addis Ababa, Ethiopia.
Deputy spokesman of the President of the Republic Alain-Diomède Nzeyimana said that those new Ambassadors were happy to have visited a safe and organized country, a country they called "very beautiful," according to Nzeyimana.
Speaking about the individual talks by each Ambassador, the deputy spokesman of the Head of State said that Slovakia is a relatively young country but has relations with Burundi and it intends to import the Burundian coffee appreciated for its good quality.
As for the United Kingdom, it is a country that has good relations with Burundi. The Ambassador welcomed the fact that there is an English Rainbow organization that exploits rare earths in Bujumbura province and would like other English companies to do business in Burundi, he said.
With regard to South Korea, Nzeyimana said that the country would like to strengthen diplomatic and economic relations with Burundi, as well as Indonesia, which would also like to strengthen relations between the two countries, without forgetting the Philippines which has undoubtedly good relations with Burundi and would like to see them grow as well.
With Portugal, the deputy spokesman of the President of the Republic reported that the Ambassador of that country asked Burundi to support their candidacy at the Presidency of the International Organization of Migration (IOM) and increase their relations in the economic and sport sectors.
Sweden, he continued, is a country that has very long relations with Burundi and works in the sector of education. Both countries would like to increase them significantly. With Serbia, the Ambassador warmly thanked Burundi for rejecting the autonomy of the province of Kosovo. Nzeyimana added that the country would like to cooperate with Burundi in the banking sector with significant relations between the central bank of Burundi and the central bank of Serbia but also in sport. It is worth recalling that Dacic, the Deputy Prime Minister and Minister Foreign Affairs of that country, visited Burundi last week and had talks with the country's authorities led by Head of State Pierre Nkurunziza.
Mr. Nzeyimana finally said that Israël is a friendly country of Burundi already working in the energy sector (solar energy) and would also like to invest in agri-business and in the sector of education.