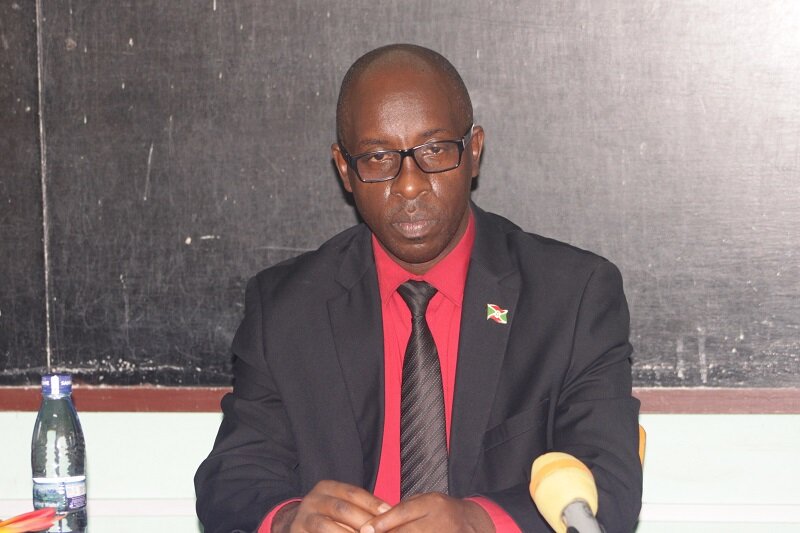 BUJUMBURA March 5th (ABP) – The Minister of Posts, Information Technology, Communication and Media, Mr. Nestor Bankumukunzi held a technical meeting on Friday March 2, 2018 at "La Chandelle" School (Bujumbura), for the management staff of the National Post Office (RNP) to see together its operating status.
The meeting was held in camera and after the hearing, the Minister in charge of the post office told the press that the meeting is part of a series of meetings initiated early this year with three main objectives. The aim is to take a retrospective, evaluative look at the 2017 exercise, discuss the 2018 action plan that has been developed at the RNP level and finally provide advice so that they can equip themselves with enough strategies to be able to carry out the activities planned for the 2018 Action Plan.
Mr. Bankumukunzi pointed out that by looking back to the 2017 RNP exercise, the Ministry made a positive assessment because it found that efforts were made to address management issues where the RNP had repeatedly been the victim of theft or embezzlement. The Ministry appreciated the efforts that have been made by the RNP leadership to put the phenomenon down and has been very successful in reducing those cases of theft. In the same way, people who have been accused of embezzlement have been prosecuted in such a way that some 100 files have been made and transferred to the courts.
He took the opportunity to reassure RNP clients that the RNP funds and depositors are fairly protected at the moment.
Minister Bankumukunzi also congratulated RNP for responding to the government's guidance on fund recovery because the maximum amount of funds was recovered.
With respect to the 2018 action plan, the Minister invited RNP officials to practice a corporate culture and arm themselves with enough strategies, to advertise a lot of product, marketing for the RNP visibility.
For RNP's grievance to the Ministry to create a postal banking branch, the Minister reported that his department has already validated the project because he found it to be an added value for RNP to increase its resources. He also pointed out that the Ministry will continue to support that project and responsible officials are asked to implement the project by following the logic of the new law governing banking activities.
In terms of advice on the implementation of the 2018 strategic plan, the Minister asked the heads of services to provide close-up supervision to ensure that all RNP members of staff are punctual, hardworking, and well armed with strategies related to planning so that everyone knows what they are going to do from day to day.
The responsible officials are also asked to mobilize the RNP staff around development works, public activities and to develop patriotism.