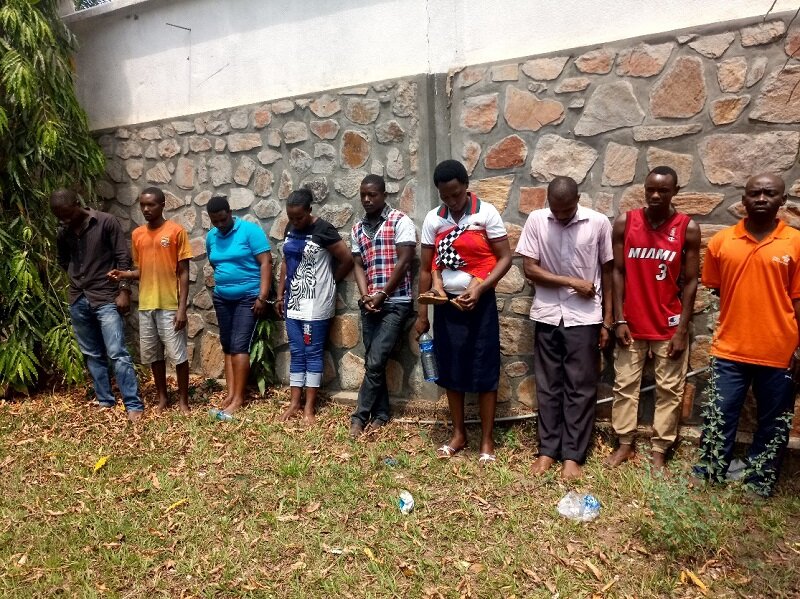 BUJUMBURA August 30th (ABP) – Burundian police presented on Tuesday August 28th, 2018 to the reporters two groups of criminals involved in the despicable acts done here and there in Bujumbura City. Those criminals are held in the prison of the national intelligence service.
The first group is composed of 10 people who were caught in a police operation carried out on Thursday August 23, 2018 around 10 am at North Mutanga, at Nyarugongo Avenue No. 30. The group was armed with two pistol-type rifles and attacked a household of an Italian, a certain Asianne Louise, married to a Burundian woman and who is at the moment a doctor at the hospital of Kiremba (Ngozi). The couple had returned from vacation last Sunday, and the group of thieves collaborated with a maid who informed them that the couple returned, and then they began the package. At the scene of the package, they were caught after wounding a servant of the same household, said Nkurikiye, noting that those criminals were using two cars, one of a TI brand and the other of Probox brand.In fact, the spokesman of the Ministry of Public Security and Disaster Management, Mr. Pierre Nkwirikiye, said that after several complaints from people to the police about the perpetrators who constantly make troubles in some localities of the Bujumbura City Council, the latter quickly got involved, reason why those criminals were caught with all the objects they used.
Mr. Nkwirikiye deplores the fact that at the head of that group are some members of the defense and security bodies, including a policewoman by the name of Aline Nimbona, aka Joachin, and two military officers, namely Warrant Officer Terence Ndagijimana and Master Corporal Apollinaire Nzeyimana. He regrets that at the head of the same group are women, and they are the ones who take care of renting, collecting and keeping all the objects used to commit the various crimes. Coming back to those members of the defense and security bodies, Mr. Nkurikiye said it is shameful that such people are involved in such acts. Necessary and appropriate measures to those individuals will be taken, he said.
Mr. Nkurikiye also showed another group of four crooks, including three Burundians and a Congolese, who are doing good and bad weather through the capital Bujumbura where they scam out people of their property. The spokesman of the Ministry of Public Security and Disaster Management asks the people to work in synergy and alert the police in case they find a suspicious case. He promised that the police will spare no effort to dismantle such networks of criminals.