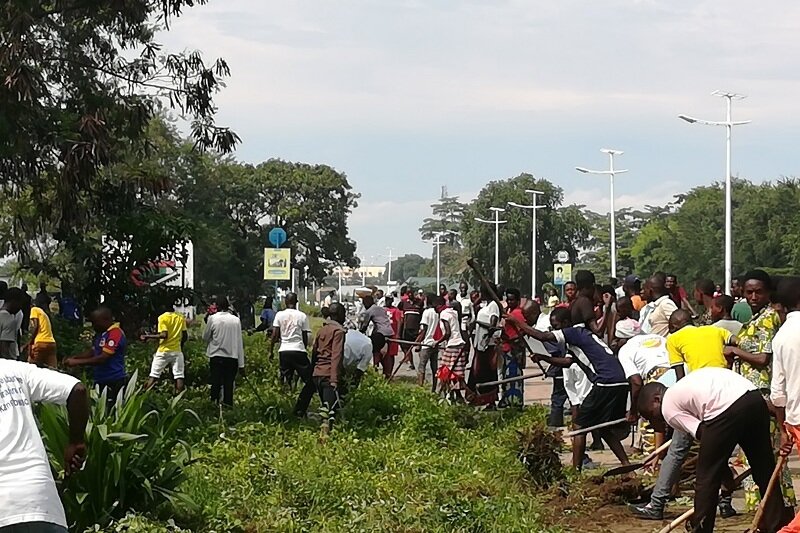 BUJUMBURA January 2nd (ABP) – The faithful of the Seventh-day Adventist Church of the Western Mission of Burundi (MISOB) cleared and planted trees on Sunday, December 30, 2018, along the National Highway (RN1), from Kamenge North Station to the Office of the Air, Frontier and Foreign Police (PAFE).
After the clearing activity, the Christians who were present proceeded to planting 1000 trees along the said road where Dr. Ndikubwayo announced that they wanted to support the "Ewe Burundi urambaye" Project initiated by the Head of State to protect the environment.According to the leader and legal representative of the Seventh-day Adventist Church in Burundi, Dr. Joseph Ndikubwayo, the purpose of those works was to show the community both nationally and internationally that the members of that church are accustomed to doing development works and cleanliness, not only in their households but also in the community. He then said they preferred clearing the edges of the RN1 because there was too much bush.
The same authority also reported that in July 2018, an evangelism campaign called "TMI" was organized both nationally and globally to preach the gospel of Jesus Christ.
At that time, he added, despite rumors of insecurity, 400 foreign evangelists were able to come to Burundi and were assigned to more than 1,200 evangelistic sites across the country. According to Dr. Ndikubwayo, some of them worked and extended even until 8 pm until the last day of the campaign, when they all returned safe and sound to their countries of origin.
For Dr. Ndikubwayo, the work was commendable because 43,000 new followers of that church in Burundi were baptized during the campaign, a number that, according to him, made Burundi rank first in the world in evangelism in 2018. He added that on their return, those foreign evangelists appreciated the hospitality and welcome that had been reserved for them while declaring that they found in Burundi, a peaceful people and a security that reigns throughout the territory.
He urged Burundians in general and the followers of his church in particular to be serene, supportive, to go about works and to pray for peace in Burundi because, he said, without peace, development is not possible.
Note that the one thousand trees planted were granted by the communal commissioner of the Burundi National Police.