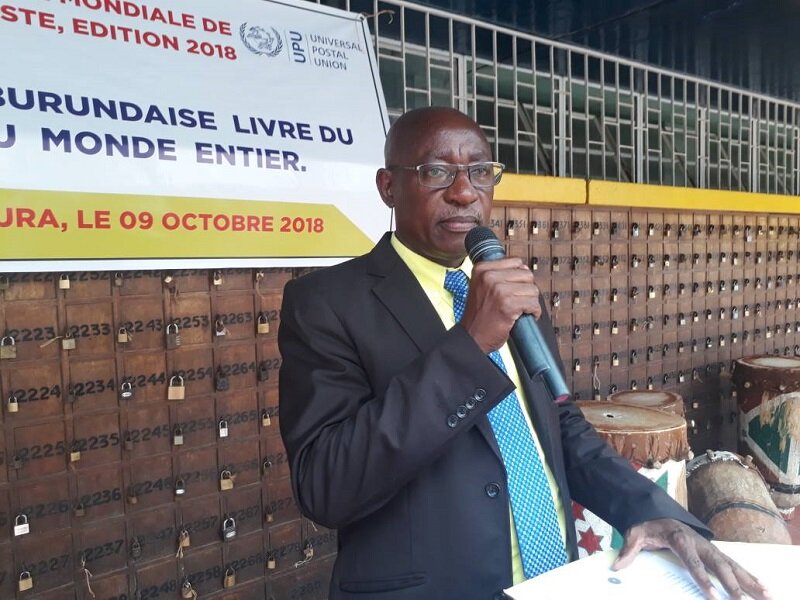 BUJUMBURA October 15th (ABP) – The vision of the National Post Office (RNP) is to turn it into a postal bank that carries out all the activities of banking institutions, according to the Director General of that institution, Mr. Benjamin Niyokindi.
Mr. Niyokindi spoke on Friday on the occasion of the celebration of World Post Day, 2018 edition, under the theme: "The post office: delivering the good to the world", a day celebrated in principle on October 9 of every year.
Treatment centers for the transport of parcels have been set up and we managed to fight against the behavior of robbery and embezzlement that became like a haemorrhage in the post office, said Mr. Niyokindi, stating that he is satisfied with achievements of the institution he leads.To meet the demands of the people, credits equivalent to more than eight billion BIF were granted to customers.
He said some RNP services have already been proven. These include the electronic transfer of money, the training of agents on the conduct of quality of service tests, the decentralization of postal parcels services in Rumonge and Nyanza-Lac, and the "Nyunganira, Rungika, Iga kibondo" products .
The RNP will continue in the near future the decentralization of the acceptance, processing and delivery of postal parcels to Ngozi and Gitega will thus carry out banking activities, exploit products derived from electronic banking, exploit the "mobile banking" and exploit insurance and micro-finance products.
According to Mr. Niyokindi, the National Post Office is undergoing a transformation in view of the technological changes and the banking law of August 22, 2017, the strongest recommendation of which is the application of the provisions of this law governing banking activities.
Burundian Post faces the challenge of interconnection between its 141 offices or agencies in Burundi. Currently, more than 60% of its offices are interconnected and all of its offices will be connected by December 2018.
Mr. Niyokindi advocated for the implementation of the Electronic Communications and Post Code in order to ensure fair competition in this sector.
The assistant Minister of Youth, Posts and Information Technologies, Ms. Odette Bizumuremyi, said that aware of the future policies and the important role of the Post in achieving the Sustainable Development Goals (SDGs) set by the United Nations to reduce poverty in particular, the Government of Burundi undertook a restructuring of the post office through the Decree of 8th March 2011 and the banking law of 22nd August 2017.
This day recalls October 9, 1874, the date of the signing, in Berne, Switzerland, of the Treaty establishing the General Union of Posts, which later became the Universal Postal Union (UPU).