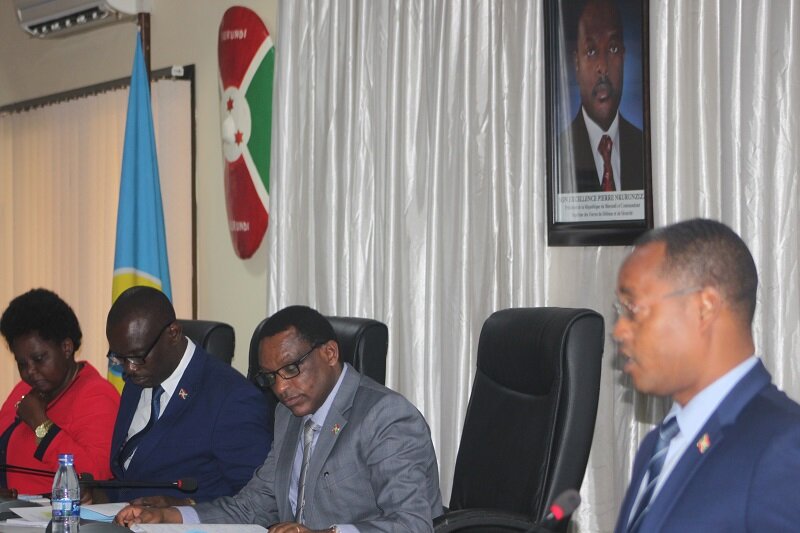 BUJUMBURA March 1st (ABP) – The day after his presentation of the annual report of achievements for the 2017 fiscal year on Tuesday, Burundian Ombudsman Edouard Nduwimana was facing the Senators yesterday on February 28, 2018.
In a brief reminder he indicated that he was able to receive 227 complaint cases involving 4,234 individuals. He specified that among all those cases, 20 were declared inadmissible, 39 cases were treated and closed and 8 remain pending.
Although the number of closed cases seem very small, said the mediator, these cases are mostly common to many people.
However, he meant that his office could have closed more cases if the public service managers concerned by the conflicts were willing to provide useful information for the mediation.
Senators pointed out that the Ministry of Justice and that of Agriculture and Livestock rate on their
own 78% of the complaints submitted to the Ombudsman.
The rationale given by the Ombudsman is that land conflicts directly affect food, that is, people's survival. Once harmed, they are entrusted to justice, which sometimes did not restore their rights. This led them to seize the Ombudsman. The mediator added that some public officials do not implement the recommendations issued by his institution.
In that regard, he called on Senators to sensitize those responsible officials to respect the mediation findings between the parties and the guidance provided by the Ombudsman. Otherwise, he warned, the notions of hierarchy and cohesion of State services are undermined.
In addition to that, the Ombudsman said, detractors expose the State to release a lot of money in case of referral to the courts. As representatives and relatives of the people, Senators are urged to make citizens aware of not diverting the services of the State by pushing them to take inappropriate and unfair decisions. Senators appreciated the work done by the mediator over the past year.