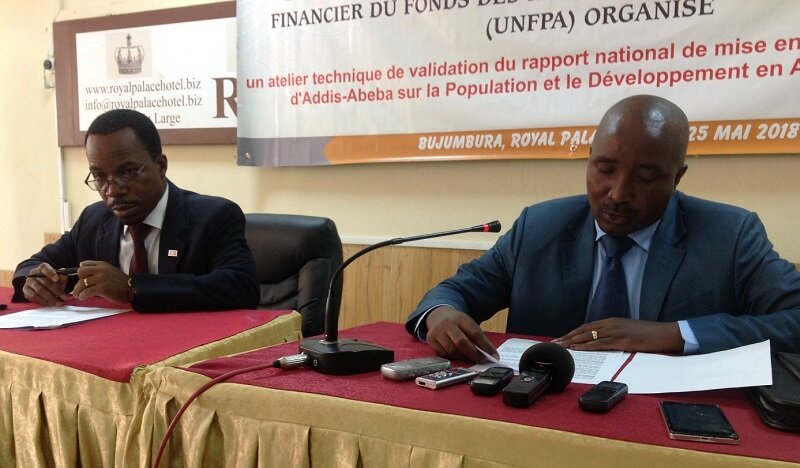 BUJUMBURA May 29th (ABP) – The United Nations Fund for Population (UNFPA), in collaboration with the Institute of Statistics and Economic Studies of Burundi (ISTEEBU), organized on Friday May 25, 2018 in Bujumbura, a workshop to validate the national report of implementation of the Addis Ababa Declaration on Population and Development (AADPD) in Africa after 2014, a check by ABP revealed.
According to him, Burundi has put the issue of the population in its development program of its 2025 vision as one of the strong elements of its commitment.In his speech, UNFPA's resident representative in Burundi, Mr.  Richmond Tiemoko, said that the 2013 Addis Ababa declaration clarifies the commitment of all the countries of the continent to take into account population issues and development. He further stated that this commitment covers six pillars, namely dignity and equality between human beings, health, location and mobility, governance, static data and international cooperation, as well as partnership. Each of these pillars has a number of commitments, he said.
ISTEEBU Director General Nicolas Ndayishimiye, who opened the works, said that the Addis Ababa Declaration reaffirms the commitment of the region to the action program of the International Conference on Population and Development (ICPD) beyond 2014 as a framework for addressing population and development issues. It also stresses the need to liaise with other key regional and global sustainable development agendas, such as the 2030 Global Agenda for Sustainable Development (SDG) and the 2063 Agenda for Development of Africa called "The Africa We Want by 2063," he said.
After the official endorsement of this declaration by African Heads of State and Government of the African Union (AU), it can be noted that its concrete implementation and its impacts must be monitored and evaluated, he said.
Mr. Ndayishimiye also said that among the six levels, there are those on which Burundi has made considerable progress, including that concerning health, dignity and equality. With regard to health, the progress made has been driven by various initiatives, such as free health care for children under five and free health care for women during childbirth, as well as availability of services. In this last section, he mentioned the case of some hospitals and health centers that were erected. As for the field of education, he mainly spoke of free basic education. Further progress has been made in other sectors, such as infrastructure and many others, said the Director General of ISTEEBU, who said challenges related to coordination, lack of resources and the legal framework were observed.