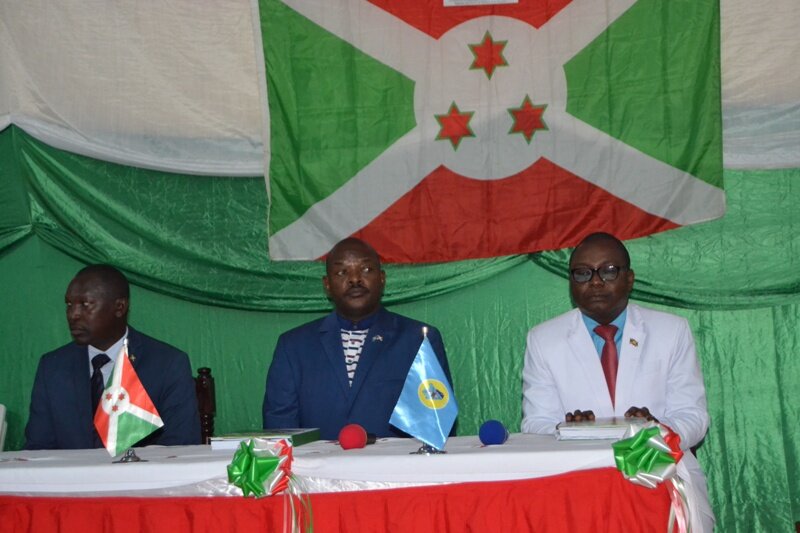 RUMONGE February 24th (ABP) – The President of the Republic, Mr. Pierre Nkurunziza, led on Friday a day visit to Rumonge province (western Burundi) where he met the natives of the province and those who carry out their activities there .
In his welcoming speech, governor of Rumonge province Juvenal Bigirimana said that peace and security prevail in the province and that people are normally engaged in development works, which is reflected in the national ranking where the province took the 4th place. Many projects are underway while in the sector of education Rumonge province has taken a big step forward because it was ranked 7th in 2017 while in 2016 it was 17th.
However, it faced challenges related to the climate change that caused this week loss of life, concubine behavior and illegal marriages still observed and the consumption of prohibited drinks.
After the meeting, Mr. Alain Diomède Nzeyimana, deputy spokesman of the President of the Republic, explained that the Head of State dispensed with them the "course" of moralization of society, aimed at making Burundians understand to love their country wholeheartedly, to understand first of all where it came from and where it is going, who fought for it, in order to bequeath that legacy to future generations. According to him, some foreigners and some Burundians tried to divide the country for their own interests.
He noted that the President of the Republic focused on two Burundian proverbs: "Uja mu kibira utazi ugaca inkoni utazi", "Uwambaye ikirezi ntabona ko cera" The first proverb which means that one who ventures into a forest that he does not master there picks a wand that he did not discount while the second means that usually the one who wears a pretty necklace does not know how to appreciate its value. According to the Head of State, the bet that the country must achieve is social, economic and political development by taking advantage of the country's natural resources. He recalled that the colonizers had nicknamed Burundi "African Switzerland" to refer to the good things it contains.