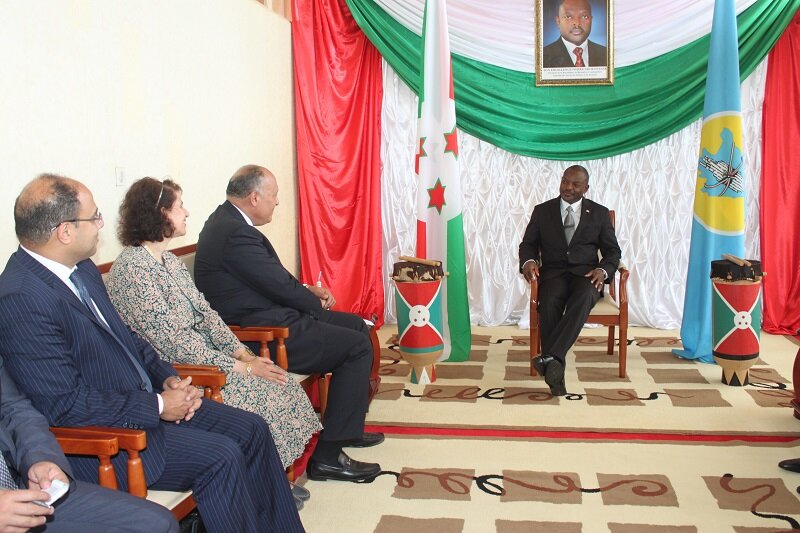 BUJUMBURA April 19th (ABP) – Burundi's Head of State Pierre Nkurunziza received in audience on Wednesday April 18, 2018 in Bujumbura, Foreign Affairs Minister of the Arab Republic of Egypt, Mr. Sameh Shoukry, who carried a special message of greetings from his counterpart, Mr. Abdel Fattah al-Sisi, as disclosed by the deputy spokesman of the President of the Republic of Burundi, Aimé-Diomède Nzeyimana.
According to Nzeyimana, the two personalities discussed bilateral relations between the two countries. Mr. Shoukry took the opportunity to recall that from June 2018, the Burundian Head of State will be the chairman of the Nile Basin Initiative (NBI) whose southernmost source is found in Burundi. He added that the Egyptian Minister said that the countries that share the waters of the Nile must meet often, reason why he asked Burundi to organize an NBI summit in Bujumbura to discuss issues that occur sometimes, especially between Egypt and Ethiopia.
On his part, the Burundian Head of State invited the Egyptians to further strengthen the bilateral relations with the member countries of the NBI. He stressed that a joint commission will be set up to bring Egypt and Burundi closer together in health, education and other sectors, Nzeyimana said.
Burundi's Head of State also took advantage of Minister Shoukry's presence to invite the Egyptian president to attend the COMESA (Common Market for Eastern and Southern Africa) summit to be held in Bujumbura in June, concluded Mr. Nzeyimana.