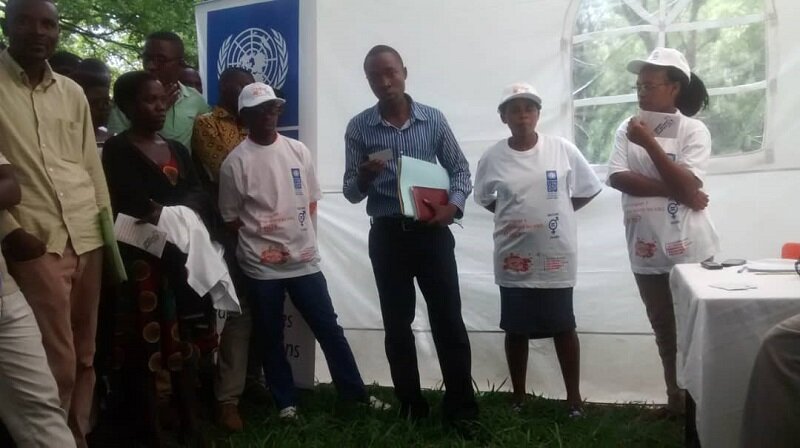 BUJUMBURA December 7th (ABP) – Universities are experiencing cases of Gender Based Violence (GBV), according to Jean Paul Nshimirimana, a student in the Faculty of Law at the University of Burundi, who attended a day of Information and sensitization of students on the theme of Gender-Based Violence, organized on Thursday December 6, 2018 by the United Nations Development Program (UNDP) at the University of Burundi.
It is true, according to the AVSPDD legal representative, that the university provides students with condoms to prevent unwanted pregnancies and sexually transmitted infections (STIs), consequences of GBV, but this is not enough because they are not sufficiently informed about their use and conservation, reason why awareness is needed.Mr. Nshimirimana, who is also the legal representative of the Association of Volunteers for Sensitization, Promotion of Rights and Sustainable Development (AVSPDD), cites, as an example, the case of female students who become pregnant from their classmates and who then find themselves rejected by the latter and forced to raise their children alone. "For me, this is a gender-based violence," he says, noting that the case of teachers who demand to have sexual with their students falls into the same category of violence.
"There should be awareness-raising with a special focus on the fight against GBV, which is to inform students about their rights and duties, and especially the law on prevention, protection of victims and repression of gender-based violence in Burundi", he added.
According to Miss Janvière Uwizeyimana, a student in the Faculty of Law, in the fight against GBV, the Law on Prevention, Protection of Victims and Repression of Gender-Based Violence in Burundi is in itself a step forward, but the Burundian culture is a barrier to its implementation. "The education transmitted to girls through Burundian values ​​and practices does not facilitate the awareness of their rights. There are women who are not even interested in it", she says, noting that it is not uncommon to find women law graduates who are committed to women's rights but who, under their conjugal roof, are passive victims of GBV.