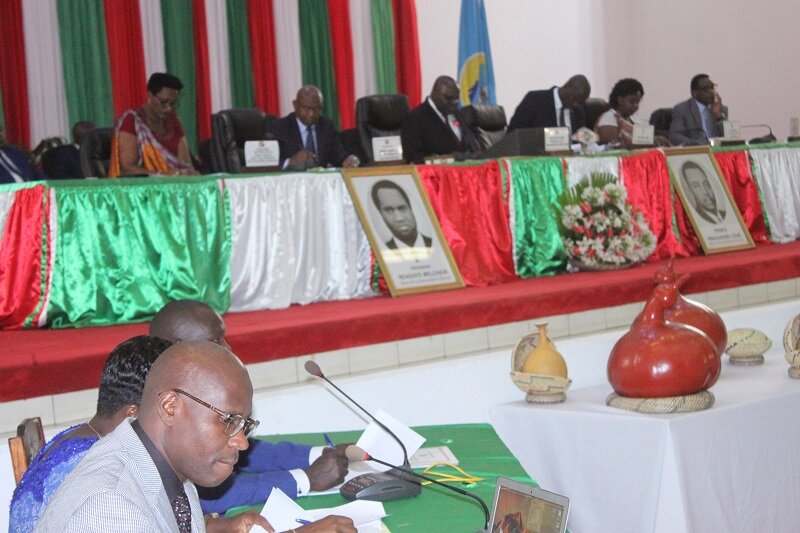 BUJUMBURA September 13th (ABP) – MPs and Senators met in the Kigobe Congress House on Tuesday September 11, 2018, together with the Ministers of the Interior, Justice and Human Rights to express their views in relation to the content of the report of the Commission of Inquiry on Burundi.
After discussing the contents of the report of the Commission of Inquiry on the situation of human rights in Burundi, the parliamentarians released a statement saying that the parliament of Burundi, surprised and shocked by the content of the report of the commission of the United Nations Human Rights Council on Burundi, rejects the report as a whole, which, they say, draws on biased sources consisting solely of data collected from individuals and organizations aiming at the completion of destabilization of democratically established institutions.The Ministers present in the session clarified the questions from the parliamentarians in relation to the serious human rights violations in Burundi as well as the political crisis which aggravated the economic and social situation of the country.
Nevertheless, it notes with satisfaction the positive assessment of the political, security and social situation in Burundi, made by the Special Envoy of the Secretary-General of the United Nations; and the measures taken by the Burundi government to prevent, protect the victims and punish perpetrators of gender-based violence.
The Burundian parliament categorically rejects the recommendation made by the Human Rights Council regarding the extension of the term of the commission of inquiry on Burundi. The Burundian parliamentarians, who described the report as lying, asked the Government of the Republic of Burundi to lodge a complaint against the authors of the report to demand compensation for the damage suffered. The parliament of Burundi ended its statement by pledging to work for the positive evolution of the political, social and security situation to remain a reality throughout the country.Burundi's parliament expresses its solidarity with all the delegations that have visited Burundi to realize the real political, security and social situation in Burundi. This parliament regrets that the methodology used by the investigators and the sample chosen does not give credibility to the results. It strongly denounces and condemns that report which hides the intention of its sponsors to intimidate and arrest the key leaders of the institutions of the Republic to create an institutional vacuum.