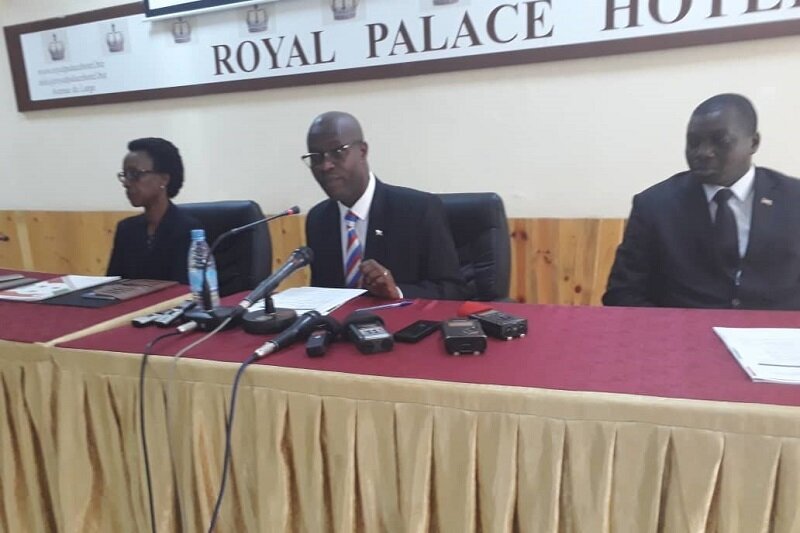 BUJUMBURA January 3rd (ABP) – The assessment of the last six months of the Ministry of Human Rights, Social Affairs and Gender is satisfactory despite the challenges, according to Minister Martin Nivyabandi.
The ministry achieved these results in spite of the financial challenges that have become a slogan for Africa, according to Nivyabandi, adding that his ministry which, as a social one, took the slogan "to be efficient with few means". "We just tested the slogan for two years and found it a realizable dream," said Minister Nivyabandi proudly.The Ministry assigned a provisional rating of 98.9% for the implementation of the activities planned in the action plans of the various Directorates-General and a rate of 93.4% for the actions that are registered at the level of national government plan.
That assessment was announced during the half-yearly evaluation of the Ministry's activities made on Monday by the ministry officials, starting with the minister himself, the heads of the directorates-general and other institutions as well as the heads of decentralized structures at the level of the provinces under the ministry's monitoring.
The actions evaluated relate to the promotion of human rights, social protection, the promotion of women's rights and gender equality and the strengthening of good governance. They are included in the government's action plan (17 actions) and the internal plan which is composed of 188 actions. These actions fully respond to the activities planned in the national development plan 2018-2027.
According to Minister Nivyabandi, the ministry is working fundamentally for the change of mentalities but also to improve the living conditions of people facing challenges related to lack of resources, changing attitudes.
"At the level of the Burundi government, the Ministry of Finance, Budget and Economic Development Cooperation is making efforts and we are working here and there with partners even though some have withdrawn. We are not afraid. We must first count on our strengths, our financial resources and be effective," said Mr. Nivyabandi.
Instead of hiring consultants that are too costly, the ministry is focusing on in-house expertise at the ministry level with the efficient allocation of resources and has realized that it is more successful, he added.
He said the ministry intends to duplicate this at the level of families that use a lot of resources from bank loans, to organize many parties a year.
The minister also invited service managers who have not yet signed performance contracts to fulfill this duty within a week. According to him, those good results are the result of the implementation of the performance management policy in different departments of the Ministry with the signing of institutional and individual performance contracts.