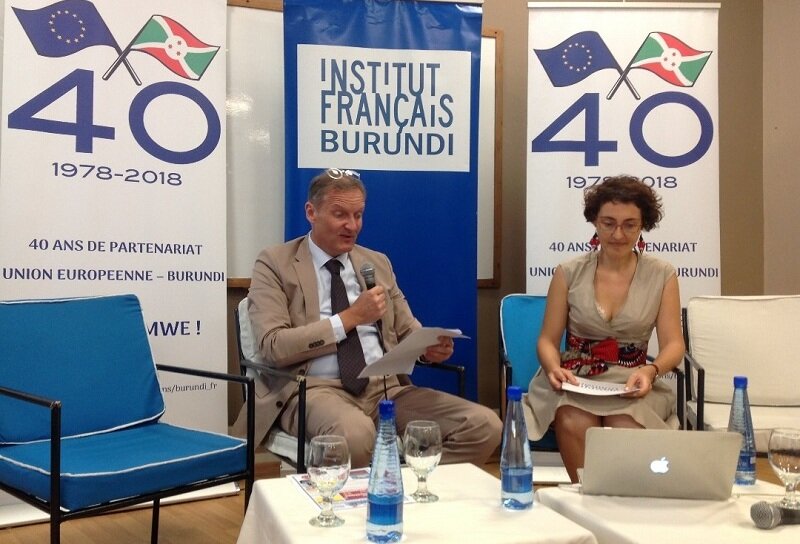 BUJUMBURA June 14th (ABP) – The French Institute of Burundi (IFB) organized on Wednesday June 13, 2018 at its headquarters in Bujumbura, a coffee press to present the program of events that will mark the celebration of the 40th anniversary of the partnership between the European Union (EU) and Burundi.
EU Ambassador Wolfram Vetter said the EU will celebrate its 40th anniversary in Burundi this year. It is in this context that it joined with the IFB to propose different cultural and information exchange activities, recalling that since the adoption, in November 2007, of the European agenda for culture, the EU is committed to supporting and promoting the artistic and creative sectors. He listed the events that will mark the celebration, including the music festival to be held on June 23, 2018 in the compounds of the IFB from 3:00 pm to 10:00 pm, the Cinema from July to October whose projections of a cycle of five films at the IFB and in neighborhoods of Bujumbura as well as theater from July to October and a play by actors from 21th to 22th September 2018 at the
It will also be about games of general culture whose semifinal and final will take place at the IFB from October 18 to 19, 2018; a photographic exhibition on the 40th anniversary of the EU-Burundi partnership to be held at the Gitega French Alliance from 2nd to 30th November; of dance, including a popular ball at the European Tropical Guinguette, which will take place on November 10th at the IFB and round-table debates, one to be held on June 27, 2018, a panel of rural development experts in Burundi and other in October on the place of women in Burundian society.IFB.
IFB Director-Delegate Stéphanie Soleansky welcomed the EU-Burundi partnership and said that creativity plays a big role in resolving conflicts.