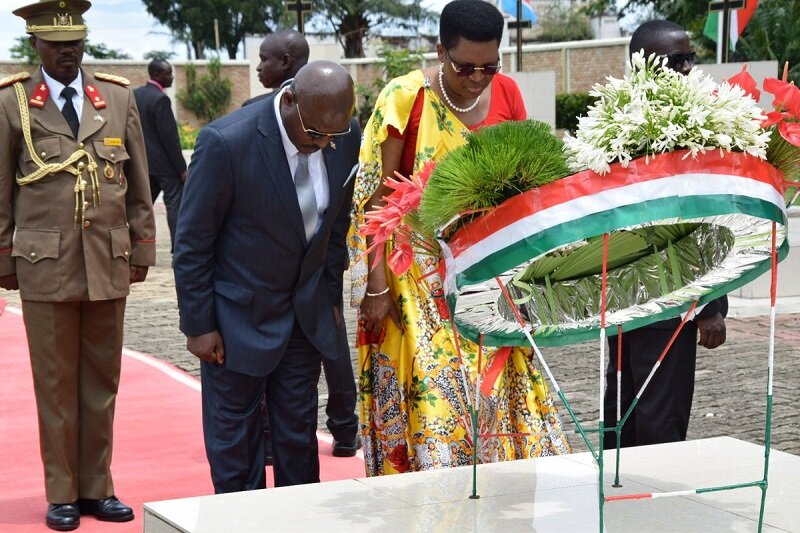 BUJUMBURA April 9th (ABP) – Burundi commemorated on Friday April 6, 2018, the 24th anniversary of the death of President Cyprien Ntaryamira, who was assassinated on April 6, 1994, together with Rwandan President Juvénal Habyalimana, in a plane crash over Kanombe Airport, near Kigali, Rwanda.
After the laying of a wreath, the Presidential couple gathers on the tomb of Late President Ntaryamira
On that occasion, the President of the Republic of Burundi, Mr. Pierre Nkurunziza, accompanied by his wife, laid a wreath on the tomb of the famous disappeared. The act was also carried out by the representatives of the diplomatic corps accredited in Bujumbura, followed by the families of the disappeared, former President Sylvestre Ntibantunganya as well as the representatives of the authorized political parties.
It should be noted that those ceremonies were also enhanced by the presence of the two Deputy Presidents, the Speaker of the National Assembly and the President of the Senate as well as their deputies, the parliamentarians, the members of the government as well as the members of the high command of the army and the police.
Those high personalities had the opportunity to listen attentively to the speech that Late President Ntaryamira had made during his inauguration to the supreme office. He advocated safeguarding unity, peace and security, without forgetting to ask all Burundians (Hutu, Tutsi and Twa) to respect the rights of the human person.
In addition, President Ntaryamira said that Burundians are all equal before God and before the law. The ultimate goal sought was to work for national reconciliation. From this perspective, the motto was to restore discipline in the army, schools, workplaces, political parties, the administration, in short, at the level of the whole country.
Previously, the participants in the ceremony had attended a Mass in his memory that was celebrated at the Regina Mundi Cathedral by the Archbishop of the Diocese of Bujumbura, Bishop Evariste Ngoyagoye.