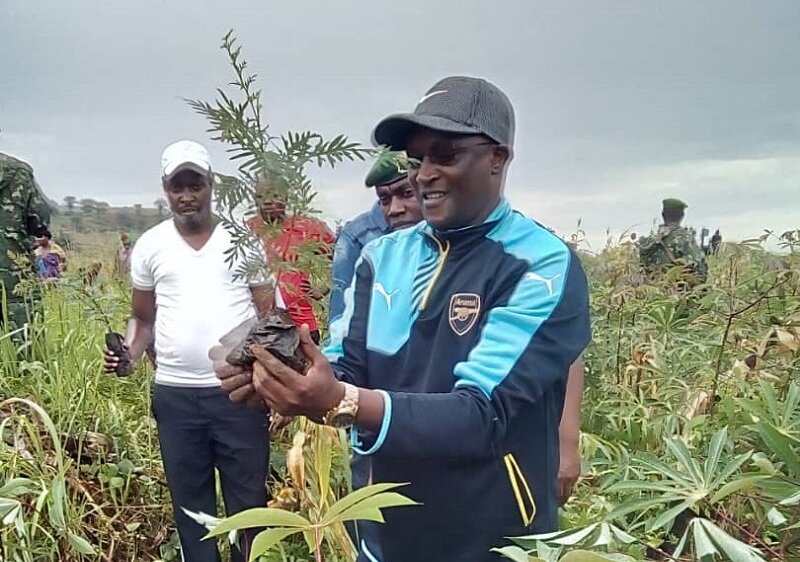 RUMONGE February 19th (ABP) – The 1st Deputy President of the Republic, Mr. Gaston Sindimwo, joined the people of Gatete zone in Rumonge commune and province (south-west of Burundi) in the community tree planting works as part of the "Ewe Burundi urambaye" campaign. It was on Saturday February 16, 2019.
About 11,000 tree seedlings have been planted in Gatete where the village called "Mandela City" will be erected. Those plants are added to 4,000 others which have been planted previously.
In his address, the 1st Deputy President of the Republic recalled the context of the "Ewe Burundi urambaye" campaign. He stressed its urgency because of the challenges related to the deterioration of the environment, one of the causes of which is the systematic felling of trees. He called on the people to support the campaign. In the same context, he called on them to draw contour lines for the retention of rainwater that crops need.
Mr. Sindimwo expressed his gratitude to the designers of the Mandela City Village Project. He called on other zones to initiate such projects which, he said, contribute to development. The establishment of such villages is part of the government's vision of regrouping the people to free up important areas for agricultural mechanization, he explained.
He called on the people of Rumonge to continue to safeguard national unity, not to listen to people who advocate ethnic divisions. It is only with this unit that such development projects can be realized, he said.
On behalf of the designers of the project to set up the village, Mr. Benjamin Bikorimana thanked the 1st Deputy President of the Republic for his visit and offered him a donation of 100 acres in the village. The community works were attended by the provincial governor, communal administrators, and heads of provincial services and representatives of some of the political parties.