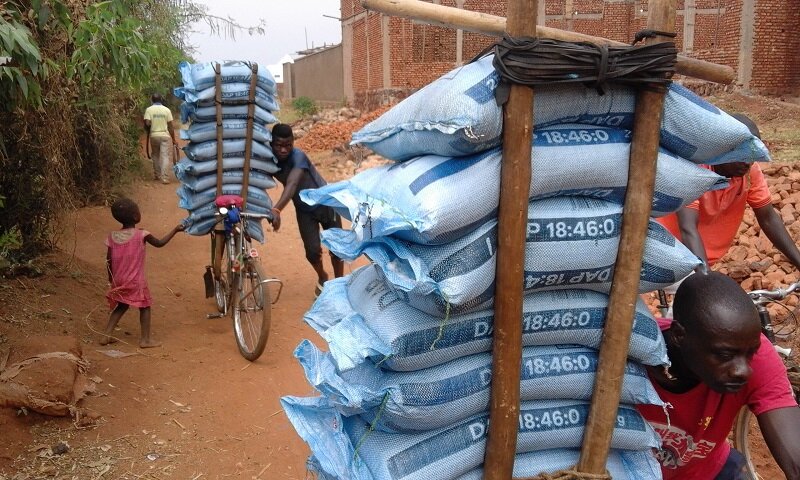 CIBITOKE July 30th (ABP) – A subsidized fertilizer delivery has been in progress since the beginning of the week from 2 to 28th July, 2018 for farmers in Cibitoke Province, who could not have been served for the 2018 cropping season B while they had paid their orders.
More than 180 tons of DAP and Urea-type fertilizers on 288 tons have been missed and have already reached the recipients whose lists were drawn up by the Cibitoke Provincial Directorate of Agriculture and Livestock (DPAE), a check on the site by ABP has revealed.
It was the same DPAE that had collected the bulk of the tokens not served during the delivery of the last cropping season (2018 B), to give them to the suppliers.
They ask however that such an inconvenience should not be repeated anymore, to avoid losses and grunts of the producers. They say that the National Fertilizer Subsidy Program in Burundi (PNSEB) has advantages when the price per kilogram of those types of fertilizer has doubled or even tripled, according to different corners due to their lack.The farmers being served say they have joy and hope that they will produce a lot for the next 2019 crop season A.
For the officials of the DPAE Cibitoke, it is very important to have regularized the main producers waiting to be served for several months. They also appeal to producers who did not want to hand over their order tokens to DPAE, so that they could have their tokens changed by post or COOPEC, in order to access their fertilizer orders, before 4th August 2018.
Some farmers of the 2018 crop season C may also benefit in part for their swamp fields.