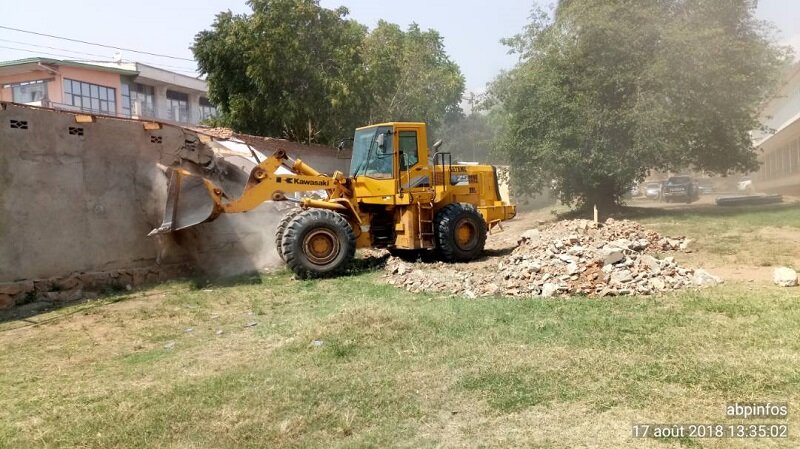 BUJUMBURA August 20th (ABP) – The Bujumbura City, in collaboration with the General Directorate of Urban Planning, destroyed on Friday August 17, 2018 the small market made by stalls and galleries built in a plot of Stella Matutina school without the respect of the regulation in force.
The Mayor of the Bujumbura City Freddy Mbonimpa told the reporters that he approached the provincial directorate of education of Bujumbura, the school management, the parents' committee and they decided that these stalls should be demolished and offenders to return the fence to its former state.
The mayor of the city reported that the Bujumbura they wrote correspondences to the owners of those galleries to do the demolition themselves, but they refused. The mayor of the city said that the former beneficiaries of those stands can go through the Mukaza municipality to recover their building materials.He pointed out that the primary mission of a school is to educate and this cannot be done in a market. For that reason, the mayor of the city proposed to the director of the Stella Matutina School to make a school canteen as is done elsewhere. Mr. Mbonimpa mentioned other reasons for that demolition, explaining that a few meters from the place there is the Ministry of Defense and the General Staff, the fact that this small market is built above the pipes evacuation.
However, they will first have to restore the fence whose construction had been financed by the former schoolchildren of the school.
The mayor of the Bujumbura City talked about other anarchic constructions that will soon be demolished, two centenarians which are in front of "Le Petit Suisse" hotel blocking the road. They will be moved to another appropriate place, such as the bus station, according to the mayor.
He also reported that the work will be executed in Ngagara where people have deposited building materials in a space that does no longer belong to them. The zone of exploitation of the jersey or the work of Buterere is also to stop in order to avoid the floods.
The mayor of the city warned people whose constructions were marked by red crosses to undertake the demolition themselves and not to wait for the administration to do it for them.
He pointed out that this task is being done in order to comply with the 2045 vision, where many innovations will be made according to the standards of a city.