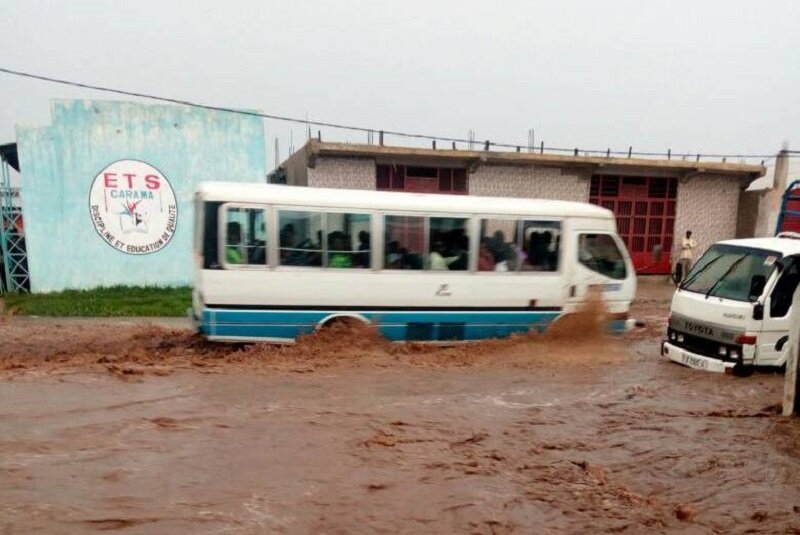 BUJUMBURA April 24th (ABP) – Several streets of Carama neighborhoods in Ntahangwa urban commune (north of the capital) are becoming more and more impassable as a result of the flooding caused in recent days and repeatedly by waters of the Gasenyi River that flows directly into those areas, a check on Monday April 23, 2018 by ABP has revealed.
Some inhabitants of those neighborhoods have difficulty accessing their plots because several gutters are blocked. The situation was aggravated by the flood that occurred on Sunday April 22, 2018. Among the most affected tracks are the Henry VIII Avenue, which is the main axis connecting the neighborhoods of Carama to other areas of the urban zone of Kinama. That avenue was invaded by the waters of the Gasenyi River mixed with mud. Pedestrians and vehicle drivers, who complain about the state of those streets, request the intervention of the Ministry in charge of the Public Works and its partners to restore those tracks.
According to a civil engineering expert contacted on Monday, the cleaning of blocked gutters and the rehabilitation of some streets more affected require an emergency work to restore traffic in that part of the Kinama zone. Moreover, he said, the construction of the capping basin for the "drainage of the Gasenyi and Nyabagere River Project", which is financed by the World Bank through ABUTIP, would also bring a slight improvement. The other solution is the paving of the avenues of those neighborhoods, said the expert, who calls on the officials of the administration in the Kinama zone to mobilize the inhabitants of those neighborhoods to pay their contributions.
Those streets of Carama neighborhoods become impassable as the vehicles transporting people and goods from Bubanza province must deviate to pass through the neighborhoods of Carama following the construction of a bridge that is underway on the Bujumbura-Bubanza road, at the height of the Carama II quarter.
The inhabitants of Carama neighborhoods are still hopeful that, with the current Gasenyi and Nyabagere River drainage project, flooding problems caused by the waters of the Gasenyi River can be solved. They regret, however, that the construction works of the capping basin at that river, which could slow down the speed of that river, are slow to start.