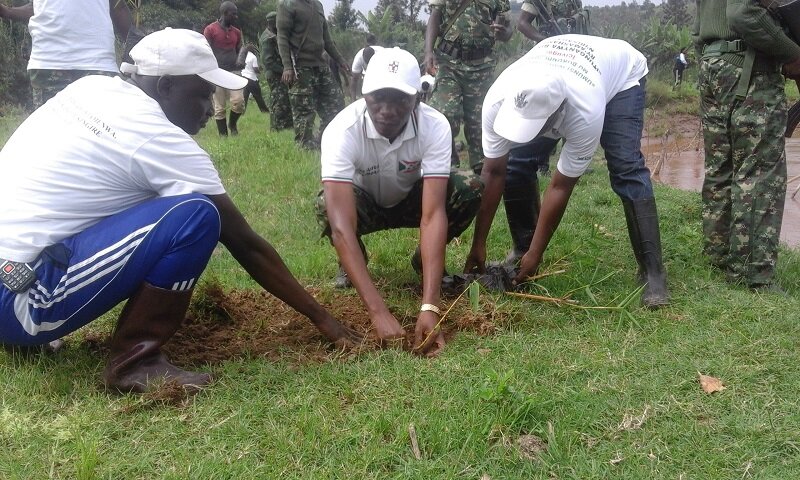 CIBITOKE January 24th (ABP) – Fourteen thousand plants made of bamboo (sinaroundinalia Alpina type), grevilleas and calliandra were planted on Tuesday January 22, 2019, over a distance of more than five kilometers, on the border of Rugombo commune in Cibitoke province (north-west of Burundi) with Rwanda, a check on the site by ABP has revealed.
The activity was enhanced by the presence of the Chief Commander of the General Staff of the Burundi National Defense Force (FDN), Lieutenant General Prime Niyongabo, who led the delegation of the national steering committee of the "Ewe Burundi Urambaye" (Tree Planting) project, as part of the national reforestation program.
According to Lieutenant General Prime Niyongabo, who spoke on behalf of the committee formed by the executives of five ministries involved, that trip was carried out to support the administration of Cibitoke and the sporadic initiatives of the people of Rugombo commune in the work of reforesting the bank of the Ruhwa River, the common border with Rwanda. He said that the protection of borders and rivers on those borders with neighboring countries is part of the missions allocated to that committee which must run for seven years.
To encourage the people of Cibitoke and other parts of the country to make that reforestation project their own, the Chief Commander of the FDN General Staff said that with the combined efforts, the expected results of the project can be tripled. They expect to plant 21,000,000 seedlings, with three million plants per year. He asked especially the implication of the local committees set up for that project which must henceforth identify the sites to reforest and make their nurseries. In his advice, the representative of the national reforestation committee insisted on the monitoring and proper maintenance of those woodlots that are being set up, while warning the arsonists and other destroyers.
As for the governor of Cibitoke province, Mr. Joseph Iteriteka, he commended the visit by a large delegation from five ministries and sensitized his people to double their efforts to reforest the borders of the rivers and their properties. He advised the same people to avoid eucalyptus plants in the middle of crops, in marshes or near water sources.
An inhabitant of Rukana I in Rugombo commune, a certain Innocent Ntakirutimana, who had taken the initiative to protect his property and the border on the Ruhwa River by planting reeds and bamboos, was awarded by the governor of Cibitoke. He gave him an envelope of 50,000 BIF, with a promise to give him boots and overalls to encourage him in his good example.
As part of this "Ewe Burundi Urambaye" reforestation project, several hundred eucalyptus and agro-forestry plants are already available in various communes. The entire province of Cibitoke plans to plant three million plants, according to administrative sources.