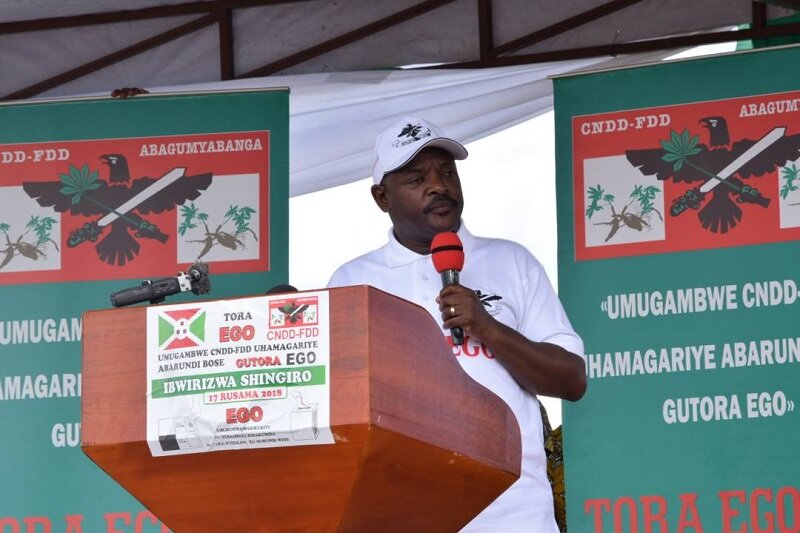 GITEGA May 3rd (ABP) – The President of the Republic of Burundi, Mr. Pierre Nkurunziza, along with other dignitaries of the country and the CNDD-FDD party, enhanced on Wednesday in Bugendana in Gitega province (center ), the referendum electoral campaign of the party, for the vote "yes" in the constitutional referendum of next May 17th.
In the presence of a large crowd of party activists, President Nkurunziza, who is also the party's visionary, first thanked God who is the guarantor of everything. He invited everyone in his various services to always pay attention to the respect of the divine will. He further indicated that the revision of the Constitution emanates from the aspirations of the Burundians who would like it to be adapted to the context of the moment. The Head of State then thanked the CNDD-FDD party Secretary-General Evariste Ndayishimiye who called on CNDD-FDD party activists to vote "yes" to the revision of the constitution.
President Nkurunziza also announced that the constitutional referendum will be held in peace, adding that he will vote "yes", before warning anyone who would thwart the referendum process and to let it be known that political parties and independents admitted to the campaign have the right to teach the vote "no" to the revision of the Constitution.
The visionary of the CNDD-FDD party also made a series of recommendations to Burundians in general and CNDD-FDD activists in particular. It is about respect for God, everywhere and in everything; safeguarding peace and security; safeguarding positive cultural values ​​and patriotic love. They must also take care to preserve solidarity, work in synergy, unity and respect for human dignity.
On his part, the Secretary General of the CNDD-FDD party listed a number of reasons in favor of the revised Constitution including the primacy of God, the strengthening of democracy, respect for human rights, the decentralization of services, the stability of the institutions elected by the people, the safeguarding of peace and the conformity with the other institutions of the East African community countries.