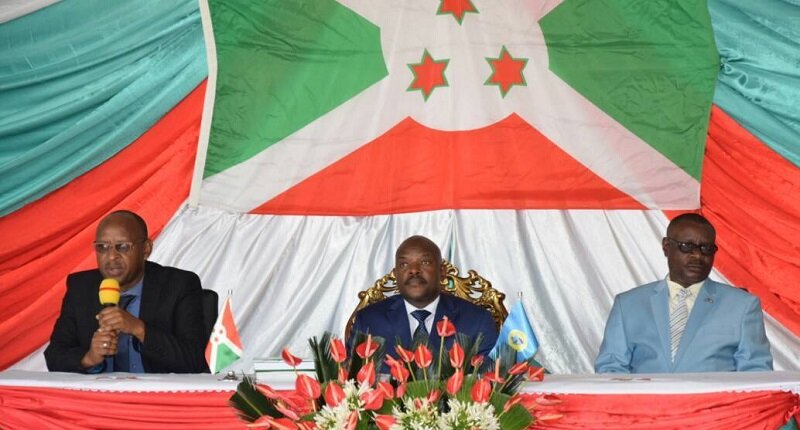 BUJUMBURA March 22nd (ABP) – The President of the Republic of Burundi, Mr. Pierre Nkurunziza, held in camera on Wednesday a moralization session for the residents of the urban commune of Mukaza. At the end of the meeting, the deputy spokesman of the President of the Republic told the press that the meeting was structured around three components, namely: a presentation held by the spokesperson of President Nkurunziza, a communication of the Head of State himself on a summary of the last three sessions of moralizations in the same commune and an appeal from the President of the Republic to change of behavior that starts from the individual level and the family entity.
He said that Mukaza is a commune that is not like the others. It shelters most of the high institutions of the country including the Presidency of the Republic, the Senate and most Ministries, the reason why it should be exemplary and visionary. Also, Buyenzi is one of the zones constituting the Mukaza commune and populated by majority of brave muslim people who fought for the independence of the country beside the prince Louis Rwagasore.
The Head of State also noted that the commune recorded groups of folk dances and drums. But those elements of cultural valorization are not enough. The inhabitants are then called upon to become sufficiently involved in the revalorization of the national language, Kirundi, and its uses during socio-cultural events. In spite of those strong points, the commune was unfortunately the bastion of the evils that the country experienced. These include the assassination of Prince Louis Rwagasore and Melchior Ndadaye, all national heroes and their close collaborators. Although the current generation has not been involved in these crimes, it is unfortunately exposed to having a bad effect on their lives today.
The Head of State invited the inhabitants of the commune to work together and to revive the role of the clans and the family in the consolidation of peace and development. He also invited the inhabitants of the commune to adopt a positive behavior through the rational use of social networks, information, books and their neighborhood that tend to encourage them negatively.
On the same occasion, an association of young entrepreneurs who were inspired by the advice of President Nkurunziza offered him a gift. Thanks to the advice of our President, they said, we earned money in a market stalled at the "Natura" company. That association brought him a giant portrait that is about the size of an adult man, drawn on the basis of the photo of the Head of State.