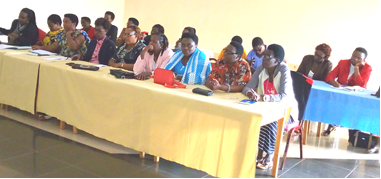 MUYINGA May 4th (ABP) – Women activists of peace and dialogue in the Muyinga province (north-east of Burundi) made last Friday the commitment to mobilize for promoting peace and sustainable development for women and families in particular, according to Ms. Agathe Minani, provincial leader of the women's network for peace and dialogue.
During an exchange session for women leaders, administrative officials and members of political parties, those women took up the challenges that hinder their socio-political emancipation. The participants agreed that the challenges identified cannot be overcome without the solidarity of all the women of Muyinga.
The provincial women's forum chairperson, Ms. Denise Ndaruhekere, called on women in Muyinga province and even across the country to join ranks and advocate for a common cause: peace and sustainable development. She hoped that women, who make up the largest segment of the country's population, would be able to hold elective positions in decision-making bodies.
The women agreed to carry out an all-out sensitization to convince the Burundian woman to change their behavior, to highlight the culture of mutual aid, to promote a non-violent culture, to educate the young girl and to seek treatment in case of illness because, she said, good health is also the basis of development and social peace.