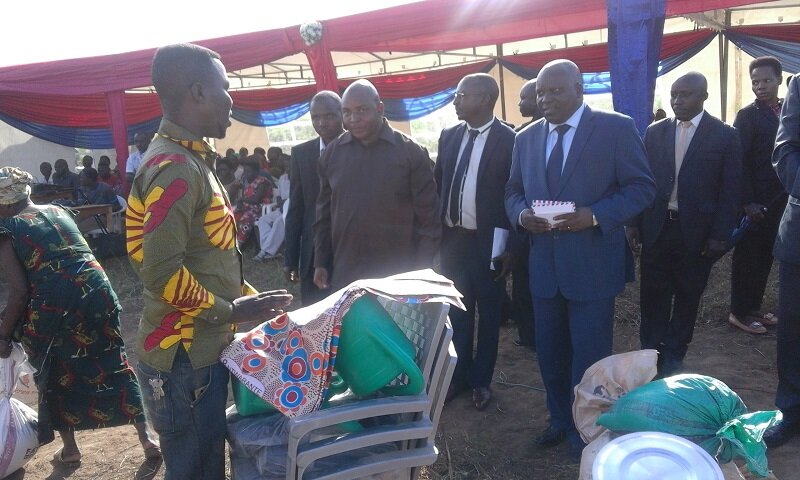 CIBITOKE May 31st (ABP) – The National Assembly Speaker and the Second Deputy President of the Republic, along with the natives and friends of Cibitoke province (North-west), went to Ruhagarika in Buganda commune on Tuesday May 29, 2018 to support 14 families of the victims killed the night of May 11, 2018, a check by ABP revealed.
A representative of the families of the victims praised the actions of the government and the natives of Cibitoke who have always been with their families to support and comfort them with assistance since the day after the attack, which took away theirs. He argued that there should be a police station that can intervene against a possible disrupter coming from DR Congo. He asked for help for those who are still hospitalized and electric power for that unlighted locality.They carried food and non-food aid consisting of metal sheets to cover houses destroyed by fire or bullets from the group that attacked them, loincloths, rice, beans, agricultural materials, kitchen utensils and others.
The second Deputy President of the Republic, Mr. Joseph Butore, announced that they will rehabilitate the 14 homes of families with 56 million Burundian francs. He appreciated the solidarity behavior that characterized them despite the painful times and promised that the government will do its best to identify the perpetrators of the attack and bring them to justice. In addition, he added, the same government will always stay close to those families to help them in their daily lives. He asked the REGIDESO officials to make the estimates for those people, who live near the Rusizi River, to benefit from the electricity.
The Speaker of the National Assembly, who was in company of the governor of Bubanza province, said that he had gone to Ruhagarika on his own part and with a spirit of brotherhood and solidarity towards those families. He had a help from his own family and supported the idea of ​​seeing that locality enlightened.
The Minister of Human Rights, Social Affairs and Gender, Mr. Martin Nivyabandi, who is also a supervisor of Cibitoke province, was among the senior executives of the country who were present at Ruhagarika.