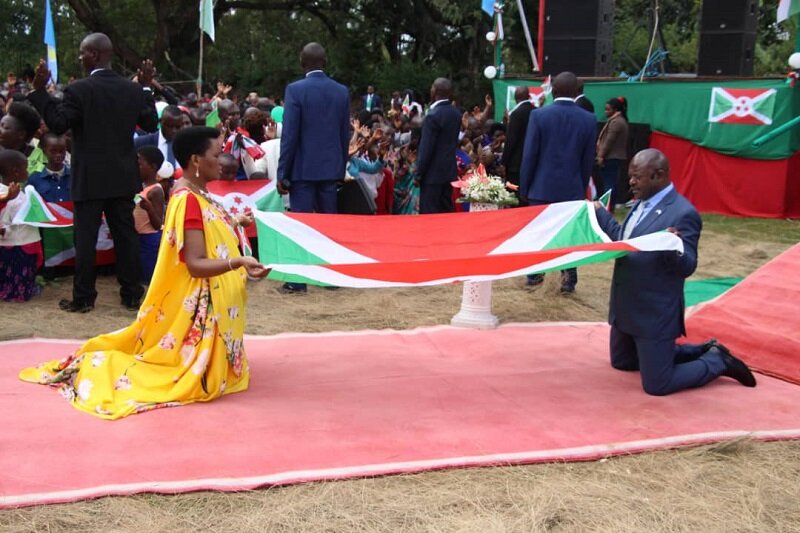 NGOZI January 3rd (ABP) – Head of State Pierre Nkurunziza insists on the God's reward to all human activity performed on his behalf. He declared it on the sixth day of Thanksgiving Week at Buye, Ngozi province (northern Burundi) by the presidential family, based on the biblical word of Revelation, chapter 22 verses 6 to 15 and in Daniel chapter 6, verses 18 to 25.
According to President Nkurunziza, Burundi and Burundians will soon be rewarded by the Almighty and lasting peace will reign throughout the country. God says in Revelation that he is coming soon to reward everyone according to what they have done. He is the beginning and the end. Blessed are those who have washed their clothes because after his return there will be the wicked of all kinds.
The Burundian Head of State revealed that those who have "dug graves" for Burundi and planned bad things will soon be struck by the mighty hand of God. According to him, a large metal stick will crush them heavily, as it is read in the book of Daniel chapter 6 verses 18 to 25, where those who threw Daniel into the ditch filled with hungry lions were punished by God through an order of the king because God never accepts that his servant is unjustly offended. It was ultimately Daniel's conspirators who suffered the fate they had reserved for him.
The President of the Republic thanked all those who played significant roles for the activities of the week to run well, the guests coming from the inside as from outside the country as well as various speakers who contributed through the lessons taught in the seminars held since Thursday December 27. He said that the month of December is a month of giving and happiness as long as the month of January remains a month of hope during which harvest will occur to the Burundian.
The teachings of Monday, December 31 were the third taught by the Head of State during the six days of prayer. The first focused on the importance of projects that pleased God. The second concerned the power of prayers accompanied by fasting, since Jesus Christ himself observed a 40-day fast.