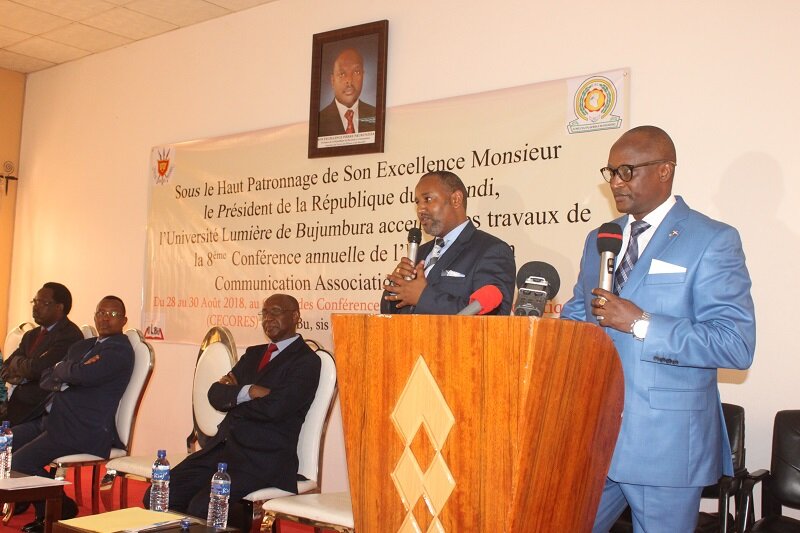 BUJUMBURA August 29th (ABP) – The Light University of Bujumbura (ULB), in collaboration with some Universities of East African member countries, has been organizing in Bujumbura, from August 28 to 30, 2018, the 8th annual conference of the East African Communication Association (EACA) under the theme: Media and Democracy in East Africa.
These meetings are important for the promotion of scientific culture, said Mr. Sindimwo, adding that he is confident that the exchanges will contribute to the democratic process in which the countries of East Africa are engaged.Opening the meeting, which brought together University professors, researchers, partners and ULB students from around the world, the First Deputy President of the Republic, Mr. Gaston Sindimwo, stated that the Government of Burundi will spare no effort to support such initiatives that contribute to the process of regional integration by bringing people together. He took the opportunity to appeal to other universities to do the same in the interest of Burundian youth.
"Certainly, there are still challenges, but we are proud of the significant and tangible progress made in our region of East Africa and Africa in general," he said.
At the same time, he said, the same media have played an important role in the process of strengthening peace and consolidating democracy in our countries. He expressed the wish that the work of this 8th EACA conference would help to enlighten everyone, and especially all the stakeholders involved in strengthening democracy in our region.Among the missions of the East African Communication Association (EACA), the First Deputy President of the Republic noted that of advising decision-makers and media and communication professionals. He hoped that the research work that the participants of the conference will share will serve as a reference for the communication and press bodies so that they are always true actors of culture and democratic maturity, and that they contribute in a remarkable peacebuilding way. He lamented that, coming back to the past, the media have been at the wrong end of history promoting polarization and violence.