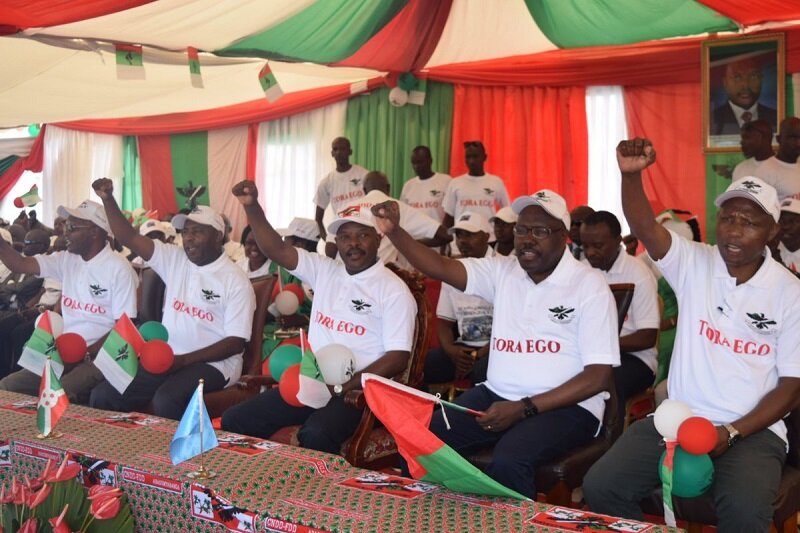 CIBITOKE May 7th (ABP) – The CNDD-FDD party was, on Thursday May 3rd, campaigning for the referendum of May 17th in Cibitoke province (north-west) where it made a meeting at Buseruko in Mugina commune, in the presence of parliamentarians elected in the Cibitoke constituency, senior executives natives of the province, provincial service heads and other CNDD-FDD activists.
In his occasional speech, the party's provincial secretary Albert Nsekambabaye called on the activists to work together for tours on their native hills to raise awareness and convince everyone to vote in favor of the amendments to the Constitution.
He said that the draft revised Constitution is the result of the will of Burundians who spoke during the dialogues of the CNDI (National Commission for Internal Dialogue). For this, he stressed that putting the fingerprint in the box "yes" for constitutional amendments is a privilege and a right for Burundians to participate in the preparation of a prosperous Burundi with a better future for their offspring.
Thus, Mr. Nsekambabaye invited all the inhabitants of Cibitoke province to vote "yes" to more than 100% as they registered as voters with a rate of 112%. He added that the campaign will continue for two weeks and that Friday will be reserved for Ndora and Mikoni hills in Bukinanyana commune.