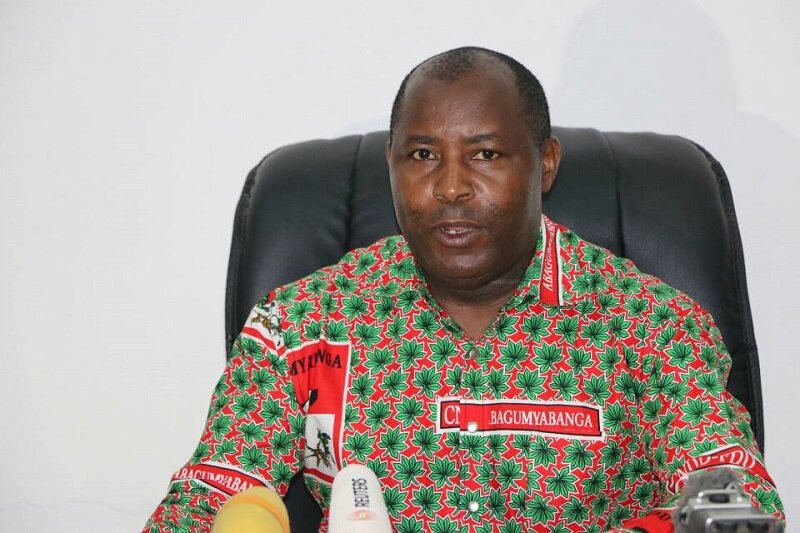 BUJUMBURA May 23rd (ABP) – The ruling party, the CNDD-FDD, issued a statement on Tuesday May 22, 2018, announcing the provisional results of the constitutional referendum, in which it congratulates the Burundians for their wise choice and enlightened by massively and peacefully voting the new constitution with a participation rate more than satisfactory.
According to the party's secretary-general, Mr. Evariste Ndayishimiye, the date of May 17, 2018 has just entered the history of Burundi as a memorable day for the 'Bagumyabanga' (members of the CNDD-FDD) and the Burundians in general. This step marks a decisive turning point for Burundians to chart their own path for a bright future, he said.
Mr. Ndayishimiye said the victory of the "yes" cannot be for any other political party. The winning "yes" marks the victory of the Burundian people in its entirety because, he said, after its promulgation by the President of the Republic, the new Constitution, which emanates from the will of the Burundian people, will govern all Burundians supporters of "yes" as those of "no".
According to the statement, the CNDD-FDD party reiterates its commitment to support dialogue as a culture of Burundians because, he added, the dialogue has already led the people to glorious horizons, including the establishment of the permanent forum of political parties, a real epicenter of reflection and exchange for politicians on all issues of national life.
He made a strong appeal to politicians to continue to consult each other whenever necessary. It would be for that dialogue to be oriented towards the welfare of citizens through community recovery and increase of production, diversification of sources of income and job creation, and so on, he said. For the CNDD-FDD party, the dialogue sessions that are now needed are those that lead the people to recovery and full development.
According to Mr. Ndayishimiye, this new Constitution consolidates democracy, and dialogue must follow this path. The CNDD-FDD party takes this opportunity to call for a framework of exchanges between political leaders to jointly prepare a roadmap for the general elections of 2020.
The secretary-general of the ruling party said that in order to strengthen the victory of the people, his party calls on the Bagumyabanaga in particular and the Burundians in general to keep the hard-won peace, to live in fraternity and mutual respect without discrimination on the basis of the choice that one or another would have made on the day of the vote.
Ndayishimiye said that in accordance with the March 2018 resolutions of the CNDD-FDD Central Committee, the latter warns anyone who creates the division between Bagumyabanga on ethnic grounds, position or other, and reiterates its rejection of any divisive and discriminatory policies.
Recall that in the provisional results of this election announced by the National Independent Electoral Commission, 73.26% of voters voted in favor of the new Constitution, 19.34% against, 4.11% of the dummies and 3.28% abstentions.