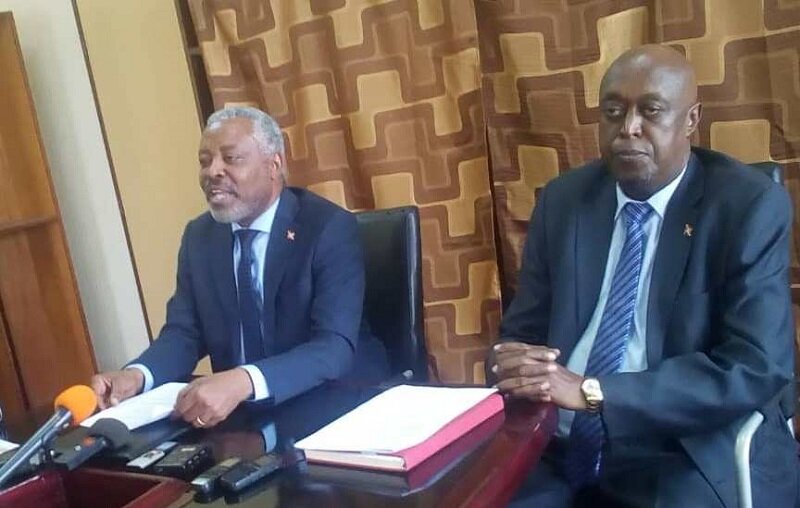 BUJUMBURA January 28th (ABP) – The chairman of the National Observatory for the Prevention and Eradication of Genocide, War Crimes and other Crimes against Humanity, Mr. Jean de Dieu Mutabazi, and that of the National Council for National Unity and Reconciliation, Mr. Guillaume Ruzoviyo, have just addressed to Ugandan President Yoweri Kaguta Museveni, a letter pleading for the analysis of the functioning of the Office of the High Commissioner for Refugees (UNHCR) at the forthcoming East African Community (EAC) Heads of State Summit.
This was said on Friday January 25, 2019 during a press briefing they held about it. The same correspondence is also addressed to the UN Secretary-General, the United Nations High Commissioner for Refugees and the President of the DRC.
Mutabazi said they drafted the correspondence after noting that UNHCR is taking action aimed at destabilizing Burundi, in refugee camps in neighboring countries like Rwanda and Tanzania, where the Tanzanian government has claimed to have discovered about 2000 military uniforms hidden in the parcels of that UN agency, to the Burundian refugee camps of Nduta and Mutenderi.
Mr. Mutabazi said the letter calls for sanctions against UNHCR staff that helped to provide military uniforms in those refugee camps.
He pointed out that they have asked the UN Secretary-General to make arrangements for UNHCR to stop those acts that undermine the peace efforts of the Burundi government, which is creating cohesion among Burundians.
To the President of Uganda, the correspondence requests that this issue be analyzed at the EAC Summit of Heads of State to be held on 1 February 2019.
Through the same correspondence, the chairman of the National Observatory and that of the National Unity Council also demand the DRC President to follow closely the activities of UNHCR in the Kavimvira and Rusenda camps.
They asked all countries in the sub-regions where there are Burundian refugees to monitor whether there are no military training camps in those refugee camps and to bring them to justice if they find them, and to UNHCR to deal with humanitarian acts that fall within its mission.