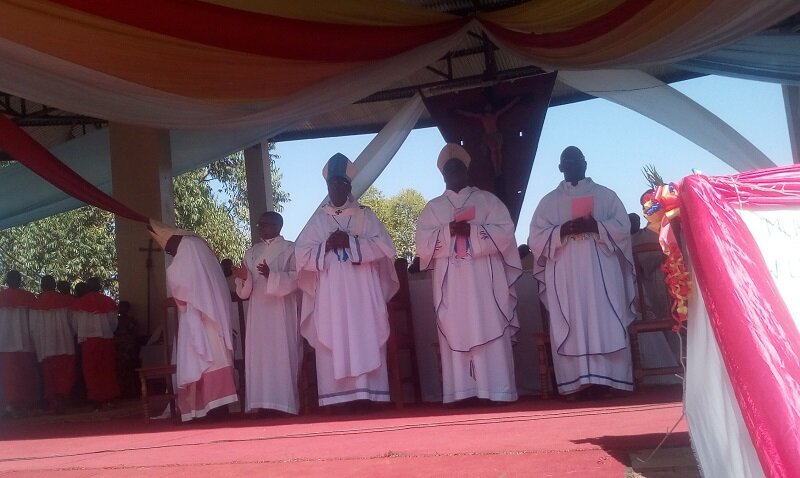 GITEGA August 17th (ABP) – Catholic Christians from different provinces of Burundi celebrated on Wednesday the Assumption of the Blessed Virgin Mary, Mother of Jesus Christ, in a Mass that was presided at the Marian Shrine of Mugera in Bugendana Commune by the Archbishop of Gitega, Monsignor Simon Ntamwana with the Bishop of Rutana, Msgr. Bonaventure Nahimana and the Bishop of Ruyigi, Msgr. Blaise Nahimana.
In his homily, the Archbishop of Gitega, Msgr. Simon Ntamwana, welcomed a large crowd coming from different dioceses to gather at the Marian Shrine, which testifies their devotion to the Blessed Virgin Mary.The celebration was held in an atmosphere of joy and was honored with the presence of the Senate President, Mr. Révérien Ndikuriyo, the 1st and 2nd Deputy Speakers of the National Assembly respectively, Mr. Agathon Rwasa and Ms. Jocky Chantal Nkurunziza, the governor of Gitega, Mr. Venant Manirambona, several priests and religious and a cheering crowd of Christians. The various messages delivered during those ceremonies that coincided with the 57th anniversary of the inception of that Marian Shrine centered on calling on Christians to privilege the love of others and beneficence in the image of the Blessed Virgin Mary, Mother of Jesus Christ the Savior of humanity.
He invited Catholic Christians to be brought up by the Blessed Virgin Mary in their daily activities. They must show love of others and beneficence. Thus, they will be able to respect the commandments of God, to strengthen their faith and will one day reach the Kingdom of God where they will share the Holiness with the Blessed Virgin Mary.
In his speech, the Bishop of Rutana who is also the Deputy leader of the Conference of Catholic Bishops of Burundi, Bishop Bonaventure Nahimana, appreciated the calm and serenity that marked the ceremonies even if the crowd was large. He thus urged Christians to live in symbiosis in their daily lives and always overcome the temptations that incite evil. They will have served as a model for the rest of the population and can live in peace and unity.
In turn, the Senate President of Burundi, Mr. Révérien Ndikuriyo, said that Day was celebrated as the country is preparing for the 2020 elections and where the various actors are called on to contribute to make those elections be held in calm. He invited the authorities of the Catholic Church to support the electoral process. He also asked parents to always look after the upbringing of their children, to always do so with human and Christian values.