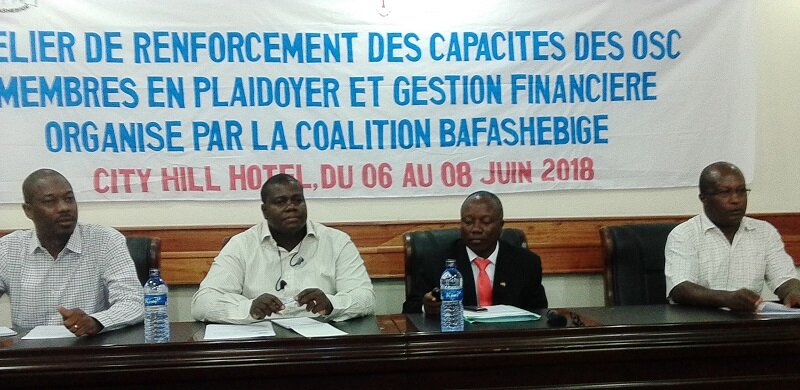 BUJUMBURA June 7th (ABP) – 39 delegates from Burundian civil society organizations (CSOs) grouped together in the Coalition for Education for All "Bafashebige" (help them study), have followed since Wednesday June 6, 2018 in Bujumbura, a training in technical advocacy and financial management.
"When it comes to education, we need to adopt appropriate strategies for a good approach with Ministry officials in charge of Education and other stakeholders in this sector," said Bafashebige Coalition chairman, who welcomes the improvement of the socio-political situation which reassures the coalition partners, and who keeps hope that through that workshop, other projects of the coalition that advocate for the promotion of quality education for all, can be funded in the near future.That three-day event was organized by the Bafashebige Coalition, in partnership with the African Network for Education for All (ANCEFA). It also aims at promoting and building the capacity among Burundian civil society organizations for good advocacy and good campaigning for quality education and free education for all, said the legal representative of the Bafashebige Coalition, Mr. Jean Samandari. The latter therefore hopes that at the end of the training, those leaders of Burundian organizations will be equipped with techniques that will enable them to better contribute to a quality education.
In the opinion of this activist of Burundian civil society organizations, "receiving funding from partners is a step; its management is another step". It is in this context, he said, that Bafashebige organized this activity.
The head of the ANCEFA delegation who took part in this activity, Mr. Robert Badji, appreciated positively the engagement of the Burundian civil society in the promotion of education for all. In other words, he said, this "very important" training will contribute to the good management of the funding offered by the partners of the member organizations of the Bafashebige Coalition.
It is worth mentioning that ANCEFA was created in May 2000 and aims to promote and build the capacity among African civil society organizations to advocate and campaign in favor of the Education for All.