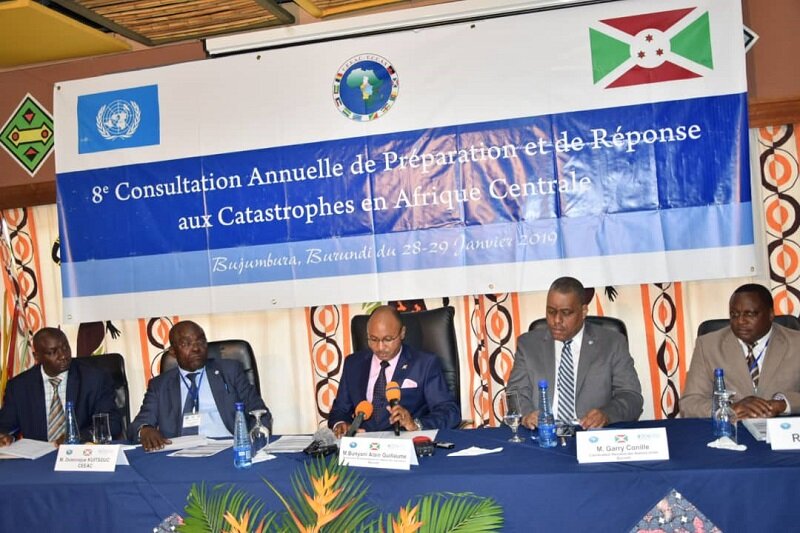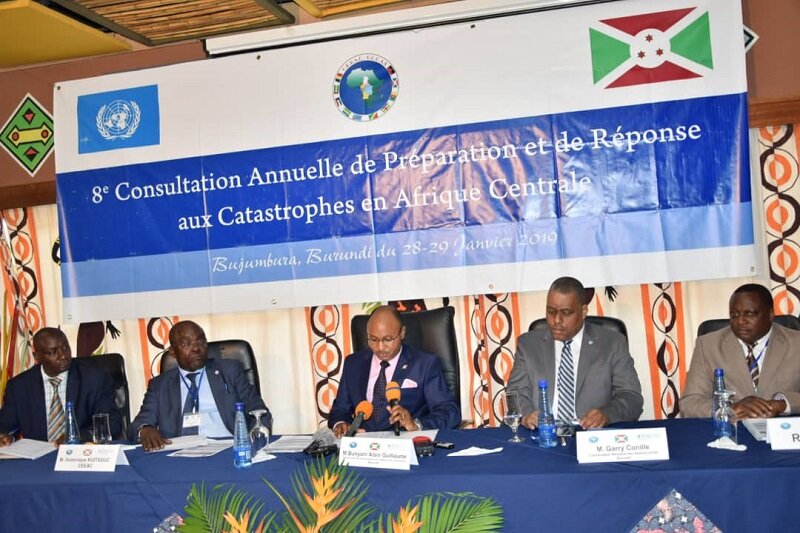 BUJUMBURA January 31st (ABP) – The capital Bujumbura of Burundi has been home to the 7th session of the Central Africa Regional Platform for Disaster Risk Reduction from Monday January 28, 2019, under the theme: "Defining a system for assessing the implementation of the Sendai Framework for Action in Central Africa ". At the opening of that five-day regional meeting, Burundian Minister of Public Security and Disaster Management Police Commissioner Chief Alain Guillaume Bunyoni said that since time immemorial, the world knows risks of natural or man-made disasters that strike at the heart of communities, with adverse effects on human life, infrastructure, the economy and the environment.
In his view, the adoption of the Hyōgo Framework for Action (Japan) in January 2005, following the decade that the United Nations dedicated to natural disaster risk reduction, focused on setting up legal and institutional frameworks for disaster risk reduction for community resilience to disasters.
The Sendai Framework for Action (Japan), which succeeded Hyōgo's Global Framework for Disaster Risk Reduction, aims to significantly reduce the loss of lives and economic losses from disasters through adoption and the implementation of good strategies supported by the development of international partnerships.
Today, Minister Bunyoni noted, the Global and Regional Platforms that are essential for the implementation of disaster risk reduction strategies and programs are at work and making significant progress. In addition to the African Regional Strategy for Disaster Risk Reduction to which Burundi is a subscriber, it positively appreciates the efforts of the Economic Community of Central African States (ECCAS) in the disaster risk management, including the adoption of the Central Africa Regional Strategy for Risk Prevention, Disaster Management and Adaptation to Climate Change, the establishment of a Center for Climate Change Application and Forecasts in Central Africa and the establishment of a Network of Parliamentarians for Disaster Resilience in the same region.
Minister Bunyoni also commended the establishment in our country of structures for disaster risk reduction, from the national to the community level through the provinces and the fact that humanitarian actors coordinated by the National Platform for Disaster Risk Reduction and Disaster Management are a partner "family" that works in synergy with the platform for emergency preparedness and response. The "Ewe Burundi urambaye" project, which consists of reforesting the national territory with 21 million tree seedlings for seven years starting in 2018, reflects Burundi's commitment to implement the Paris Agreement on climate change. Also, major hydropower dam construction projects currently underway are part of the implementation of this global post-2015 climate agreement, he added.
Note that this meeting, jointly organized by ECCAS and the Government of Burundi with the technical support of UNDP, the European Union and the World Bank, was preceded by consultation sessions during which the ECCAS member countries which have not yet put in place disaster risk reduction structures committed to set up a National Disaster Prevention Platform, while others are committed to developing vulnerability and risk mapping.