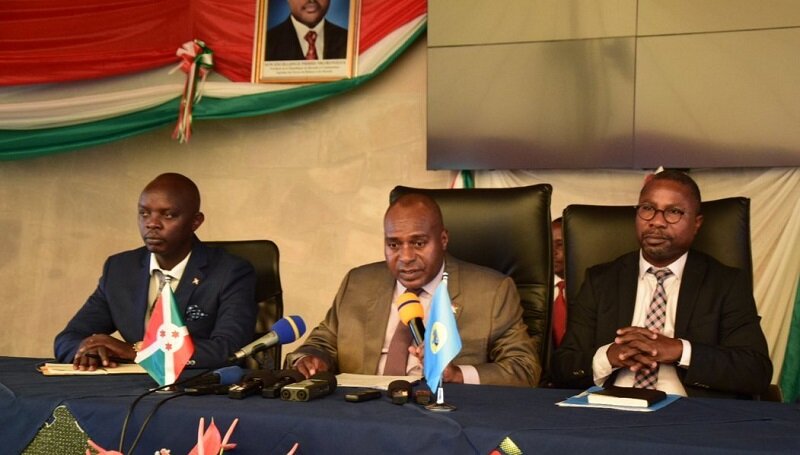 BUJUMBURA June 22nd (ABP) – The Second Deputy President of the Republic of Burundi, Dr. Joseph Butore, proceeded on Thursday June 21, 2018 at the Lake Tanganyika Hotel Club, to the official launching ceremonies of the activities of the Local Development Project for Employment (PDLE) organized by the Ministry of Finance, Budget and Economic Development Cooperation in collaboration with the World Bank Residence Mission.
In his address, the second Deputy President said that the objective of the PDLE is to build the resilience of the people and the private sector affected by the fragility of the national context through the creation of income-generating opportunities for individuals and enterprises, and improve access to basic infrastructure in certain regions by targeting vulnerable people and small and medium-sized enterprises in certain value chains, the agribusiness and construction sectors.
He further reported that this project is worth US $ 50 million, funded by the International Development Association (IDA) in the form of a grant. The project will operate through four components: investments in local infrastructure, support for value chain development, emergency and disaster response, and project management, coordination and monitoring.
The project will operate in four provinces of the country including Bujumbura, Gitega, Ngozi and Kirundo. He cited some actions including 12 markets located in various provinces, a crafts village in the industrial neighborhood of Bujumbura, 20 sub-projects for rehabilitation of roads to improve local transport infrastructure, 6 health centers, 13 schools, 2 youth centers, a playground and 2 administrative centers.
He took the opportunity to invite the future beneficiaries of the actions of this project to take ownership in order to ensure the sustainability of its achievements.
The World Bank representative in Burundi Nestor Coffi stressed that the ambition of the PDLE is to use local materials, including red bricks and stones for the construction of the planned infrastructure. He also said that the challenge is daunting even if it can be overtaken. It requires a commitment and a permanent mobilization of all the teams concerned, but a permanent support of the authorities.