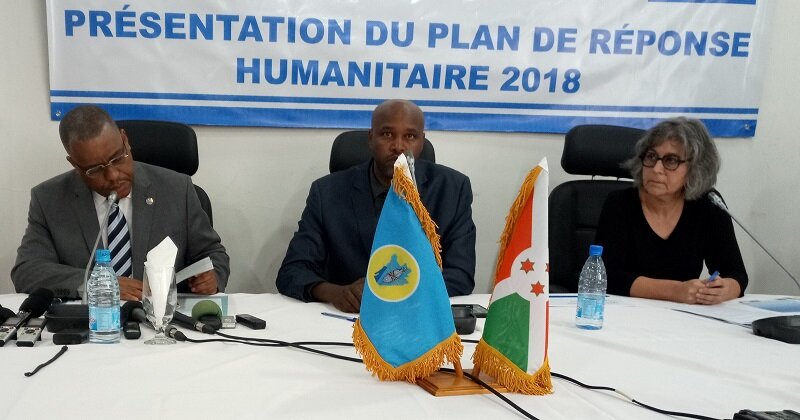 BUJUMBURA February 21st (ABP) – 3.6 million Burundians are in need of humanitarian assistance in 2018, and to do so, US $ 141.8 million are needed to help them, according to the 2018 Humanitarian Response Plan. That document was officially launched on Monday February 19 in Bujumbura by Mr. Jean de Dieu Ndikumana, Permanent Secretary of the Minister of Foreign Affairs and International Cooperation. The document was drawn by the humanitarian community in a participatory and exhaustive manner in collaboration with the Burundian authorities.
In his address, Ndikumana said the 2018 humanitarian response plan targets 2.4 million vulnerable people in need of humanitarian assistance. This, therefore, implies a funding requirement up to US $ 141.8 million. In 2017, he said, Burundi had received $ 45.5 million from the international community, or 61.6 per cent of the required budget in the humanitarian response plan that targeted one million people. For many of the challenges that require to get lifted up for the year 2018, he urged donors to mobilize funds to reduce the number of people in need of assistance.
The Resident Coordinator of the United Nations System in Burundi, Mr. Garry Conille, noted that in 2017, progress has been made in several sectors, particularly in the health sector, which has made it possible to stem the malaria epidemic and cholera. The food security sector remains to be improved, but the step already taken is encouraging, he said.
In addition, other achievements and search for sustainable solutions encouraged the return of internally displaced persons. Tripartite agreements have encouraged the voluntary repatriation of a few thousand refugees. These achievements, he said, are the result of close collaboration between all government actors, the United Nations, civil societies with the unwavering support of donors. This cooperation of all by all is more than indispensable to continue to cope with the many challenges identified for 2018. In this respect, he continued, it is absolutely crucial that the humanitarian principles that govern action, the principles of neutrality, impartiality, independence and humanity, decentralized protection and accountability are always and everywhere respected and defended by all actors so that affected populations receive the help they expect, he pointed out.
According to Garry, the 2018 humanitarian needs analysis reveals that 3.6 million people, or 1/3 of the Burundian population, will need humanitarian assistance. The vulnerability of people driven by a precarious economic situation but also by the resurgence of natural disasters is demonstrated by a deterioration of living conditions, limited access to basic services and the displacement of people where women and children remain particularly victims.
According to him, acute and severe malnutrition affecting children under 5 years old exceeds the emergency threshold in 8 out of the 18 provinces. In addition, he added, one million children under five and four million pregnant and lactating women are at risk of poor nutrition.
Faced with all those challenges, the Resident Coordinator of the United Nations System in Burundi indicated that the international community will support Burundi in its efforts to meet the basic needs of people in need of humanitarian action.